Digital Media Technologies Faculty Hope to Create Pathways to STEM Careers, Educate At-Risk Youth through Esports and Creative Media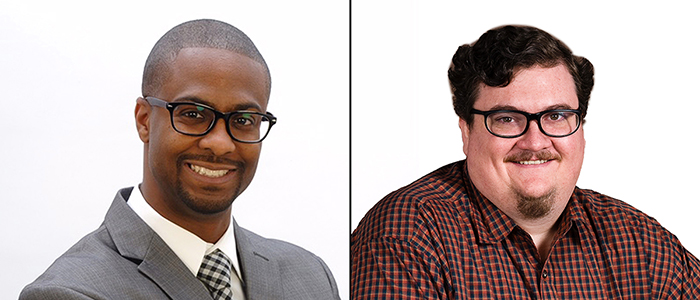 Posted by: Elizabeth Richardson on January 28, 2019, No Comments
Utilizing competitive Esports for at-risk children in Monroe County is at the core of a National Science Foundation grant for $399,853 that has been secured by East Stroudsburg University faculty members from the department of digital media technologies. Jason A. Engerman, Ph.D., primary investigator, and Richard Otto, Ph.D., co-primary investigator, both assistant professors at ESU, received the funding in the Innovative Technology Experiences for Students and Teachers (ITEST) grant solicitation in 2018. Their proposal, titled Culturally Relevant Computing Activities and Career Readiness for At-Risk Youth, will be funded for two full years, ending in December 2021, and will focus on motivating and preparing at risk youth to pursue Science, Technology, Engineering and Mathematics (STEM) careers and to create innovative instructional content.
Funding for this project is focused around Esports, individual or team-played computer games that allow large audiences to watch live matches and cheer on the game's players, similar to watching a professional sporting match. Both Engerman and Otto see the bridge between this rapidly growing global phenomenon and the foundational principles of STEM being taught in college classrooms today.
According to Christina McDonald, director of the office of sponsored projects and research, this grant-funded project will focus on the development of a new model of learning specifically for at-risk youth to promote student awareness of, interest in, and capacities to participate in emerging digital media technology fields where these STEM principles can be shared. One example of the work planned is to launch a living-learning community sleep-over camp experience in summer 2020, where young participants will engage in Esports-inspired activities with industry professionals, digital media technology professors, mentors and support staff. According to Engerman and Otto, they hope to broaden interest for STEM learning among a historically underrepresented population while addressing misconceptions about STEM.
"As educators in the field, we are finding that it's challenging to prepare students for the expanding workforce requirements and the changing workplace environments that rely on the use of STEM education and innovation," says Engerman. "We want this initiative to help us, and others, in the development of career-based knowledge and practices while also fostering critical thinking, reasoning and communication skills that are needed in any workforce sector. Through Culturally Relevant Computing Activities and Career Readiness for At-Risk Youth we are looking to harness the power of the Esports community to develop a new generation of digital leaders."
The beauty of this grant-funded initiative is that Engerman and Otto will not be working alone. Two partners working with them to implement the project will be Adelaide Grace, director of Monroe County Children and Youth Services, and Judge Jonathan Mark, court of common pleas, 43rd judicial district. In addition, the grant will be augmented by leading professionals in the field including Kimberly Voll, Ph.D., senior technical designer at Riot Games; Aroutis Foster, Ph.D., Drexel University, senior research consultant; and Kevin Clark, Ph.D., George Mason University, consulting on culturally relevant computing. Engerman and Otto will oversee the implementation and reporting of the grant and other ESU faculty members will be involved as experts to teach or advise youth while at ESU. They are: Robert Marmelstein, Ph.D., professor of computer science; Nicholas D'Angelo and Joan Kistler, both instructors of digital media technologies; and Janine Hyde-Broderick, assistant professor and director of ESU's Upward Bound program.
"We are very excited about the possibilities this project offers," says Otto. "We are looking for ways to create pathways of success for at-risk students in our region to digital creative STEM careers. Using Esports and the technology of creative digital media, we believe that Culturally Relevant Computing Activities and Career Readiness for At-Risk Youth will be a model that can be replicated to build a superstructure for success for the participants."
The NSF ITEST program supports research and projects to promote PreK-12 student interests and capacities to participate in the STEM and information and communications technology (ICT) workforce of the future. The ITEST program supports research on the design, development, implementation, and selective spread of innovative strategies for engaging students in technology-rich experiences that: (1) increase student awareness of STEM occupations; (2) motivate students to pursue appropriate education pathways to STEM occupations; or (3) develop disciplinary-based knowledge and practices, or promote critical thinking, reasoning skills, or communication skills needed for entering STEM workforce sectors.
For more information about ESU's NSF grant for digital media technologies at ESU, contact Christina McDonald at cmcdonald9@esu.edu or (570) 422-7954.
---
---