Distinguished Professor – Dr. Rob McKenzie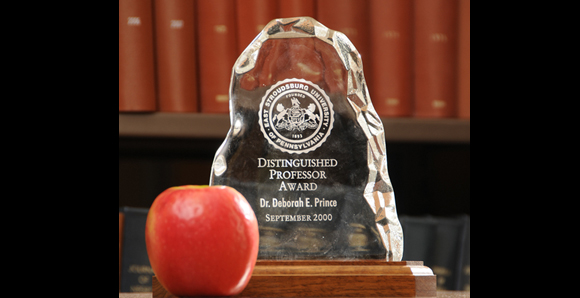 Posted by: admin on September 1, 2012, No Comments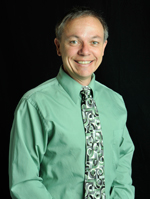 East Stroudsburg University bestows its highest faculty honor, the Distinguished Professor Award, upon Dr. Robert (Rob) McKenzie, for excellence in teaching, service and scholarship.
A member of the Department of Communication Studies faculty since 1992, Dr. McKenzie has served as the department's internship coordinator and has taught more than a dozen theoretical and practical communication courses, most focused in the broadcasting concentration that he launched in 1994.  Dr. McKenzie is perhaps best known to the university community and surrounding community for his years of devoted service to WESS (90.3 FM), ESU's student-operated radio station, and for his commitment to opportunities for students to study abroad.  Since 1995, Dr. McKenzie has served as director of ESU's Vintage Radio Project, soliciting grants and donations, supervising archivists, and preserving, digitizing and broadcasting classic radio programs from the 1930s-1950s.
Since his arrival at ESU, Dr. McKenzie has served as the University Advisor to WESS. In 1995, Dr. McKenzie wrote the grant to acquire the BBC (British Broadcasting Corporation) World Service for WESS Radio.  As host of The Talk Show, broadcast for the last twenty years, Dr. McKenzie has interviewed more than 300 guests.  As host of WESS's weekly Stones Hour, Dr. McKenzie has offered a model for integrating a professional focus on broadcasting with his personal passion for the Rolling Stones.
Since the Fall of 2011, Dr. McKenzie's newspaper column, Rounding Some Corners, has appeared weekly in The Pocono Record.  In this anchor column, Dr. McKenzie often offers thoughtful commentary on a wide range of current issues.
Dr. McKenzie earned a B.A. in History with a minor in Business Administration from Millersville University, and a Masters and Ph.D. in Speech Communication from Penn State University.  His professional and scholarly work includes nearly two dozen journal publications and book reviews in both English and Spanish, more than fifty presentations, and essays and chapters in books.  The book that he authored, Comparing Media from Around the World, has been adopted by universities in the US and abroad.  He has also held managing-editor positions for three academic journals.  He has also served as a consultant to the Autonomous University of Sinaloa in Mazatlan, Mexico, the US Embassy in Mexico City and the US Consulate in Juarez City, Mexico.
---
---