Distinguished Professor – Dr. Allan Benn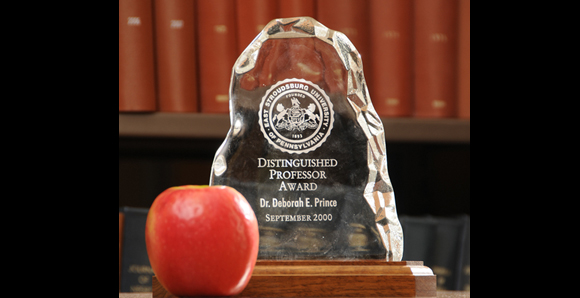 Posted by: admin on September 1, 2006, No Comments
East Stroudsburg University bestows its highest honor, the Distinguished Professor Award, upon Dr. Allan N. Benn, for his excellence in teaching and service to the university and community.
Originally appointed to the ESU faculty in 1985, Dr. Benn has served as Chair of the English Department and has been an active member on many departmental and university committees.  In 2005, he was elected by the legislative assembly of the Association of Pennsylvania State College and University Faculties (APSCUF) to serve on its Executive Council.  He has held elected and appointed positions of the local ESU chapter of APSCUF, including service on the Meet and Discuss team from 1993-2009.  He was elected Chair of ESU Meet and Discuss between 2001 and 2004.
Dr. Benn remains a devoted teacher of earlier American literature, composition, and general education literature offerings.  With scholarly expertise in the field of American Romanticism and known by students as a challenging and passionate professor, Dr. Benn frequently teaches course required by English majors including American Literature, the American Novel, and Major Writer offerings.
Dr. Benn has become an activist in raising consciousness about eating disorders, serving as Vice President of the SHELBY Project, testifying before government officials in Pennsylvania and Washington DC, and participating in campus and community events, including service on the Advisory Board for the Bulimia Project sponsored by the Emergency Care Research Institute. In 2005 he was awarded distinction as the Pro-Feminist Man of the Year by the student group Women for Awareness.
Dr. Benn received his B.A. in English from Mercer University and his M.A. and Ph.D. from Case Western Reserve University, with a dissertation on Nathaniel Hawthorne.
---
---