Distinguished Professor – Dr. Deborah Prince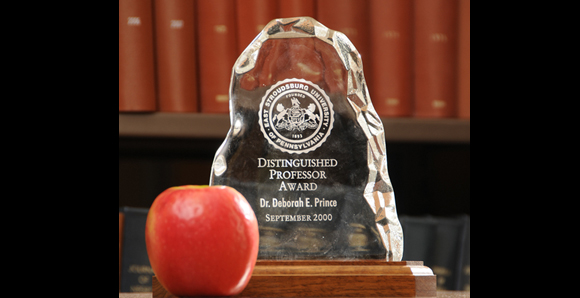 Posted by: admin on September 1, 2000, No Comments
East Stroudsburg University bestows its highest faculty honor, the Distinguished Professor Award, upon Dr. Deborah E. Prince for her excellence in the teaching of mathematics and her service to the university community since 1982.
Dr. Prince has introduced innovative techniques in mathematics instruction, always setting high standards. She has served as chair of the Mathematics Department and accepted various administrative duties. Dr. Prince has also earned immense respect from her university colleagues for her highly visible work on the Curriculum and General Educations committees that have helped set academic standards. Her other efforts have been in diverse areas, from writing to women's issues, from strategic planning to teacher training. She is known for her diligence, her sincerity, and her ability to build consensus. Through her committee work and leadership, Dr. Prince has held the ESU community develop processes that bring important changes to academic programs and requirements.
Dr. Prince received her B.A. from the College of Wooster, and her M.A. and Ph.D. in Mathematics from the University of Kansas.
Dr. Prince retired in 2009 and was awarded Professor Emeritus status.
---
---