Distinguished Professor – Dr. Edith Miller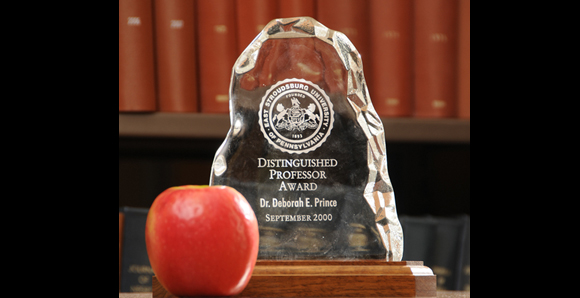 Posted by: admin on September 1, 2007, No Comments
East Stroudsburg University bestows its highest faculty honor, the Distinguished Professor Award, upon Dr. Edith Miller for her excellence in scholarship and advocacy for students with disabilities.
Dr. Miller is responsible for the establishment and institutionalization of the Office of Disability Services at East Stroudsburg University. She came to ESU as a part-time faculty member in 1987 as the Learning Skills Coordinator in the Department of Academic Enrichment and Learning, when ESU had twenty-seven students with identified disabilities. In 1990, after a national search, Dr. Miller became the full-time faculty Director of Disability Services. Since then, under her leadership, the Office of Disability now serves over 400 undergraduate and graduate students with disabilities. The significant increase in students reflects both a national trend and the growing reputation of ESU's Office of Disability Services.
In addition to recommending accommodations for students with disabilities, Dr. Miller has been a tireless advocate for disabilities awareness at ESU. She has spearheaded the development of three unique programs at ESU to foster the academic success and social development of students with disabilities. First, College Achievement Training Seminars is offered to first-year students with identified disabilities. Second, through a grant from the PASSHE Office of Diversity, Dr. Miller founded Delta Alpha Pi Honor Society as the first honorary in the nation established specifically to recognize the academic accomplishments of university students with disabilities. In addition, ESU serves as a site for Project Eye-to-Eye, a national service-learning project that pairs university students who have disabilities with elementary or middle school students with similar disabilities to serve as mentors.
Dr. Miller earned her B.A. in English at Gettysburg College, her M.Ed. in Reading at ESU, and her Ed.D. in the Psychology of Reading from Temple University. She teaches courses in Reading, Special Education, and Media Communications at ESU. She is an active scholar in disabilities education and assessment, with multiple publications, and presents frequently at national and international conferences.
Dr. Miller retired from ESU in 2011 and was awarded Professor Emeritus status.
---
---