Distinguished Professor – Dr. Elzar Camper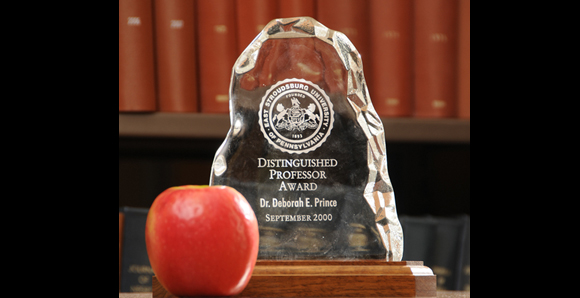 Posted by: admin on September 1, 2011, No Comments
East Stroudsburg University bestows its highest faculty honor, the Distinguished Professor Award, on Dr. Elzar Camper, Jr. for his nearly forty years of teaching and service to the University.
Dr. Camper's teaching and curricular development contributions to East Stroudsburg University have been exemplary.  He has taught over twenty-five courses at the undergraduate and graduate levels.  Ten of the courses, including seven graduate courses, in the Department of Media, Communication and Technology were designed by Dr. Camper.  He co-developed the concept and wrote the joint master degree and instructional media specialist certification proposals for the program shared between Kutztown and ESU, and served for seven years as its first graduate coordinator.  He developed the Department's proposal for NCATE accreditation, as well as the certification and degree programs in instructional technology for the Pennsylvania Department of Education.
Dr. Camper's contributions to ESU go well beyond teaching.  He has served in several different administrative positions, including Interim Vice President for Academic Affairs and acting Dean of the School for Professional studies.  He coordinated The Harrisburg Internship Semester at the Dixon University Center.  For over ten years he has served as Chair of his department.  He has won numerous prestigious Fellowships, including ones from the American Council on Education, the Annenberg Washington Program, the Academy for Television Arts and Sciences, and the Pennsylvania Association of Broadcasters.  He was the co-initiator of the Prince Hall Program, which continues today nearly twenty-five years after it began.
Dr. Camper began his career in academia with an undergraduate degree from a sister PASSHE campus, Bloomsburg University.  He holds two Master's degrees–an MEd in Educational Media from Temple University and an MLS in Administration and Information Science from Rutgers University.  His doctorate in Educational Media was conferred in 1983 by Temple University.
Dr. Camper retired from ESU in 2012 and was awarded Professor Emeritus status.
---
---