Distinguished Professor – Dr. Faith Waters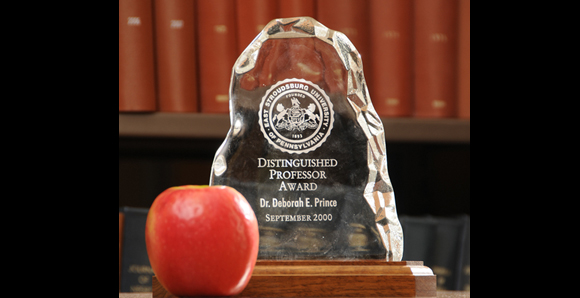 Posted by: admin on September 1, 2008, No Comments
East Stroudsburg University bestows its highest faculty honor, the Distinguished Professor Award, upon Dr. Faith Waters for her excellence in teaching, scholarship, and service.
Dr. Waters' many contributions to ESU include her role as co-founder of the Center for Teaching and Learning (CTL). She served as co-director of the Center from 1994-2002, which has provided the university community with numerous professional forums, publications workshops, and professional development programs. Dr. Waters also served as co-author of the ESU comprehensive Classroom Assessment Model developed by the CTL.
Dr. Waters is the co-founder of the PSED Professional Development School Program and chaired the initiative to develop the collaborative Educational Leadership doctoral delivery program between Indiana University of Pennsylvania and ESU.
Dr. Waters was the primary or co-recipient of over twenty-five grants during her tenure at ESU. The contents of the grants address a wide variety of initiatives including the development of a virtual education academy for disaffected youth, an investigation of the progress of Pennsylvania schools regarding the federal mandates of No Child Left Behind, and the development of one of four Centers for Teaching Excellence in Pennsylvania. Her most recent venture before retirement was helping schools expand career opportunities in the computer security field.
During her tenure at ESU, Dr. Waters served as the Professional and Secondary Education Graduate Program Coordinator and Department Chair. Among many other contributions she has been a member of the University Institutional Research Board, the Faculty Development and Research Committee, the Association of Pennsylvania State College and University Faculties (APSCUF) Executive Committee and Meet and Discuss Team, the NCATE Accreditation Steering Committee, and co-chair of the Middle States Faculty Task Force.
Dr. Waters came to ESU in 1989 after serving in teaching and leadership roles in public education for 18 years, including Principal of Pocono Mountain Senior High School, Director of Secondary Instruction for the Central Bucks School District, and Assistant Principal at Springfield High School. Dr. Waters began her professional career as an English teacher for the Hatboro-Horsham High School.
Dr. Waters has been an active scholar with multiple publications and frequent professional presentations on a wide variety of topics, from the applications of the Russian problem-solving system, TRIZ, to co-teaching in the university classroom.
Dr. Waters received a B.S from Bucknell University, an M.Ed. in English Education from Trenton State College, her K-12 principal and supervisory certificates from Villanova University, and an Ed.D. in Educational Leadership from the University of Pennsylvania. She retired in 2008 and was awarded Professor Emeritus status.
Dr. Waters retired from ESU in 2008.
---
---