Distinguished Professor – Dr. Kathleen Brunkard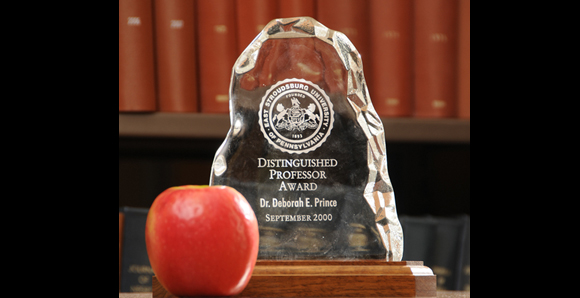 Posted by: admin on September 1, 2008, No Comments
East Stroudsburg University bestows its highest faculty honor, the Distinguished Professor Award, upon Dr. Kathleen M. Brunkard for exceptional teaching and scholarship that has focused in the area of mentoring students and supervising graduate students' research, and for her incomparable service contributions to the university and to APSCUF, the Association of Pennsylvania State College and University Faculties.
Dr. Brunkard joind the ESU faculty in 1984, having received her doctorate from the University of Massachusetts, Amherst in 1982.  Her Ph.D. thesis on "The Response of Membrane Potential to Low Temperatures in a Chilling-Sensitive and a Chilling-Resistant Plant Species," was a precursor to her current high expectations of students and exceptional talent for helping students achieve their best, combined with a unique ability to distill and clarify complex subjects.  Dr. Brunkard's scholarly activities include publications in prestigious peer-reviewed journals and serving as major advisor for master's theses on cockroach metabolism, germination in fern spores, and cellular regeneration as a result of plant growth regulators.  Additionally, she has obtained grant funding to support undergraduate and graduate research.  Dr. Brunkard serves as coordinator of the secondary education program in biology, and in that capacity has successfully launched hundreds of student careers in teaching biology.  Dr. Brunkard is an active member of several professional associations.
Dr. Brunkard is respected as a dedicated proponent of academic quality, and her numerous contributions to the university reflect her personal standards of quality and integrity.  She has contributed thousands of hours working to promote academic quality at ESU.  She has served on numerous university-wide and departmental committees including the University-Wide Curriculum Committee (serving as chair from 1996 to 2003), the Teacher Education Restructuring Steering Committee, and the SAP Campus Management Implementation Team.  As a follow-up to her service on the Middle States Accreditation Task Force in 1996, she continued as an unofficial historian for each cycle of re-accreditation.  As a member of APSCUF, she has served as Treasurer and on the ESU Meet and Discuss team and the Executive Council.
Dr. Brunkard received her B.S. from Southern Connecticut State College, her M.S. from Syracuse University, and her Ph.D. in Biology from the University of Massachusetts.
---
---