Distinguished Professor – Dr. Kenneth Mash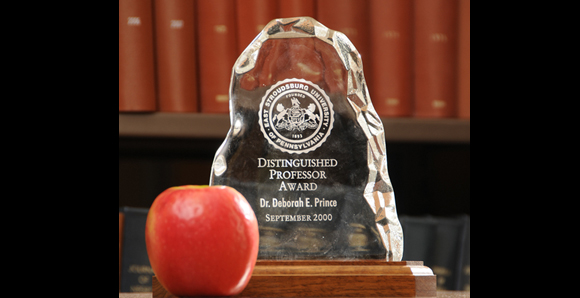 Posted by: admin on September 1, 2011, No Comments
East Stroudsburg University bestows its highest faculty honor, the Distinguished Professor Award, upon Dr. Ken Mash for excellence in university and statewide service, teaching, and academic scholarship.
Currently the Vice President of the Association of Pennsylvania State College and University Faculty (APSCUF), Dr. Mash has devoted countless hours to the union that advocates for the professionalism of faculty members and coaches at the 14 universities of the Pennsylvania State System of Higher Education.  At ESU, Dr. Mash has held the APSCUF offices of Acting President, Vice President, Meet and Discuss Chair; and on the statewide level, he has served as State Meet and Discuss Chair, Negotiations Team Member for both the faculty and coach collective bargaining units, and as Legislative Assembly Delegate.   He assumed a leadership role on the Committee that developed the ESU University Senate and Bylaws for that body; he also served as Vice President of the ESU University Senate and on its Executive Council.
Dr. Mash serves as Co-Director of the ESU Honors Program, which he helped to redesign.  He then led ESU Honors classes, seminars, and activities.  He has also been involved, along with Dr. Wenjie Yan, with taking ESU students on trips to partner universities in China.
A dedicated member of the Department of Political Science, Dr. Mash serves as the advisor to the pre-law program. He co-authored A Novel Approach to Politics with Douglas Van Belle.  This textbook for introductory political science courses was published by Congressional Quarterly Press in 2007, then went into a second edition in 2010.  Dr. Mash's research interests include federal jurisdiction, the limits of judicial power, and American political theory.  Dr. Mash has also earned a number of grants, and he has helped to facilitate a number of conferences and special speakers on campus, focused on topics ranging from social equity and diversity to international politics.
After graduating from Queens College in 1987, Prof. Mash pursued a Masters (1990) and a PhD (1997) in Political Science at the Pennsylvania State University before his appointment to ESU in 1997.  He was promoted to full professor in 2006.  Dr. Mash continues to dedicate his professional life to the public university students who, he believes, deserve small class sizes, highly-credentialed faculty, solid athletic and cultural programs, and appropriate governmental and public support.
---
---