Distinguished Professor – Dr. Mollie Whalen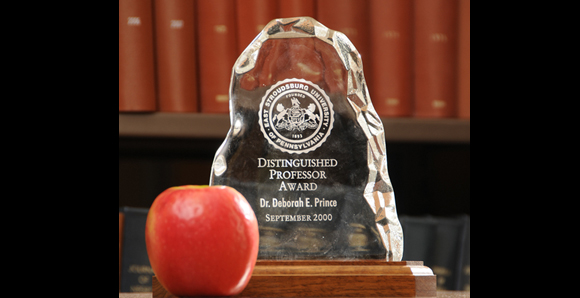 Posted by: admin on September 1, 2005, No Comments
East Stroudsburg University bestows its highest faculty Honor, the Distinguished Professor Award, upon Dr. Mollie Whalen for her excellence in research and scholarly achievement.
Since her appointment to the ESU faculty in 1992, Dr. Whalen has successfully ushered the Women's Studies program through curricular change from a concentration to a minor. As the Women's Center Director, she has provided counseling, mentoring and guidance to many student activists who work to promote gender equity. Dr. Whalen organized a chapter of Iota Iota Iota, the Women's Studies honor society, which acknowledges scholarly achievement, as well as evidence of social activism on behalf of women.
Dr. Whalen's research has brought great recognition to herself and to East Stroudsburg University. Her book, Counseling to End Violence Against Women, published by Sage Publications, was named one of the outstanding books of 1996 by Choice, the journal used by most librarians to select new titles for library collections each year. She was selected to participate in the 1995 United Nations 4th World Conference on Women as a representative of the Association for Women in Psychology. Dr. Whalen has published several journal articles relating to counseling practices with feminist perspectives.
In addition to her academic pursuits, Dr. Whalen has made important contributions to the Association of Pennsylvania State College and University Faculties (APSCUF), serving as the ESU and statewide Grievance Committee Chair, a member of the Executive Council, a delegate to the Legislative Assembly, and on the ESU and statewide Meet and Discuss Teams. She has also served as a department chair and on many university committees.
Dr. Whalen is proud to have received her undergraduate degree from ESU, her M.A. from Fairleigh Dickinson and her Ph.D. from New York University.
Dr. Whalen retired from ESU in 2013 and was awarded Professor Emeritus status.
---
---