Distinguished Professor – Dr. Robert Schramm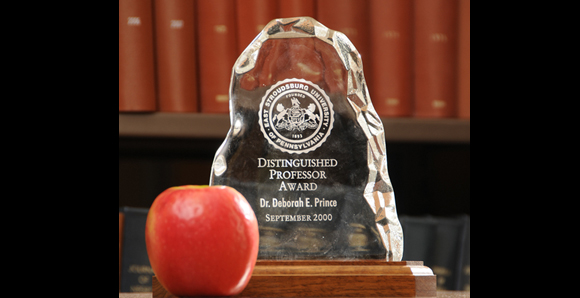 Posted by: admin on September 1, 2004, No Comments
East Stroudsburg University bestows its highest faculty honor, the Distinguished Professor Award, upon Dr. Robert F. Schramm for his excellence in the teaching of Chemistry for over 35 years.
Dr. Schramm was the recipient of the 1981 Distinguished Faculty Award for Excellence in Teaching, the 2003 Great Teacher Award given by the ESU Alumni Association, and has been cited in the 2002 edition of Who's Who Among America's Teachers and the 13th edition of American Men and Women in Science. He has also been honored by the ESU Student Activity Association and the ESU Office of Disability Services.
Dr. Schramm's research interests, for which he has received many grants, include the application of software packages to be used to improve and update chemistry laboratory courses. He is recognized as having a strong commitment to teaching and an even stronger commitment to his students. Students find him very approachable and admire his ability to make difficult subject matter easier to grasp without lowering class standards. He is an enthusiastic supporter of the university's tutorial program. He both encourages students to use these services and also recommends top students to become tutors.
Dr. Schramm's significant contributions to university service are demonstrated through his willingness to serve on many committees both in his department and university wide. Dr. Schramm served as the faculty advisor to the Chemistry Club/Student Affiliate Chapter for 27 years. In 1997 he was recognized by the American Chemical Society as a commendable advisor, one of 40 honored Chapter advisors in the United States. Though his committee work, he has helped to make ESU a better place to both study and work. Dr. Schramm is an enthusiastic and caring teacher who continues to distinguish himself through his professionalism and his innovative teaching techniques.
Dr. Schramm holds a B.S. in Chemistry from St. Joseph's University and a Ph.D. in inorganiz chemistry from the University of Pennsylvania.
---
---