ESU Alumni and Students Prove to be Warrior Strong During Pandemic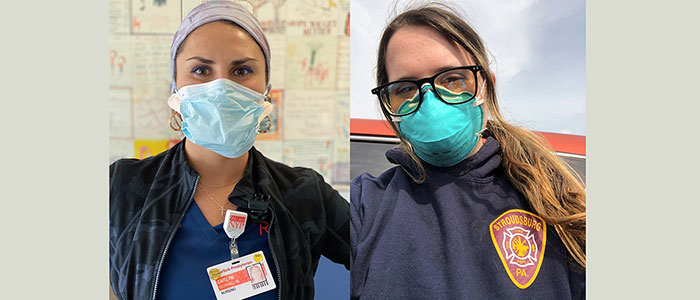 Posted by: Elizabeth Richardson on April 28, 2020, No Comments
With ESU's strong health services programs, it's not surprising that Warriors are on the front lines of the COVID-19 pandemic. But alumni with criminal justice, social work and other degrees are also responding to this unprecedented national crisis.
Here are just some of their stories.
Caitlyn O'Connell '16
Registered nurse, New York Presbyterian-Columbia University Medical Center
Bachelor of science, nursing
Caitlyn O'Connell is experiencing the pandemic head on since her hospital surgical unit started treating COVID-19 patients in March. Staffing shortages are real, so she also works at Mount Sinai South Nassau on Long Island, where started her career.
She works 12-hours shifts, five to six days in a row. She cares for a half dozen patients a day. Most of them are in critical condition, requiring extreme amounts of oxygen and subject to sudden turns for the worse.
"What I find far greater than the physical toll, being on my feet all day long and in a constant state of dehydration, is the toll on me mentally. Many of these patients are dying unable to be surrounded by the familiar faces of their loved ones. This has been my biggest burden."
O'Connell faces it using lessons learned as a lacrosse player.
"ESU is where I built my character. It's where I left every ounce of my energy on the field, where I set goals achieved through dedication and hard work, and where I strived to be a great student, player and even better teammate.
"Each morning I put on my scrubs and go to work, I don't know what situations I may face, but I do know I will make it through the day," she says. "ESU helped shape me into the person I am today, someone who can find silver linings in their biggest burden."
Theodore Harkness '09
Federal Emergency Management Agency, Washington, D.C.
Bachelor of science, health services administration, ESU
Master's degree, disaster medicine and management, Philadelphia University
Theodore Harkness is a FEMA program manager, planning agency training. With that on hold, he's working from home 12 hours a day, leading a team connecting businesses with ways they can help, such as getting personal protective equipment (PPE) to medical personnel.
"Assistance requests can be anything from 'I have a factory and can produce PPE, how do I do this' to 'I have a fleet of trucks that can transport PPE/ ventilators, how can I help?'"
Working for the Philadelphia Red Cross for seven years helped prepare him for this work. "It taught me how to be flexible in an ever-changing environment, and that no matter how well you plan for any type of emergency, you need to be able to adapt."
Debbie Kulick '80
President, Bushkill Emergency Corps, Marshalls Creek
Owner, Eastern Monroe Leasing & Training, Bushkill
Bachelor of science, education
For more than 45 years, Debbie Kulick has been a volunteer emergency medical technician with the Bushkill Emergency Corps, which she also serves as president. The coronavirus crisis has made for dramatic changes.
"There is the need to treat patients, but not to create a danger to the crews. All patients are treated as if they have COVID-19, masked. Providers are all masked with eye shields and gloves and if needed, don PPE suits or gowns."
Days are spent sanitizing trucks and buildings and keeping up with the latest news on coronavirus treatment. Trauma-related calls are fewer, though, because of the state's stay-at-home order.
Kulick puts her ESU degree to use as the owner of a personnel company that  provides and trains EMS workers.
"Having my degree in education allowed me to expand my focus and become a provider who is also an educator," she says. "It has brought me great satisfaction as I see so many providers head into many fields of medicine after a start on an ambulance."
Jack Morris '19
Street2Feet Outreach Center, Stroudsburg
Bachelor of science, social work
Jack Morris is outreach case manager for Monroe County's only homeless day center, working with people very vulnerable to COVID-19 infection.
"Times are tough, but these times are exacerbated without having a roof over one's head," he says. Between social distancing and businesses being shut down, clients have a hard time finding places to get out of the elements and charge their phones.
In the name of safety, the center must turn away people for an isolation period if they have been to a high-exposure area, and can't accept new clients.
"The constant changes create lots of anxiety for them as well as us," Morris says. "Clients do not have a lot of outside resources to count on."
But they continue to surprise him with their ability to adapt.
"The love and support the clients show for one another every day is truly a testament to the resiliency and sense of family they have."
Alex Figueroa '11
Pennsylvania State Police Troop K, Philadelphia
Bachelor of science in sociology, criminal justice
State police officers are following Centers for Disease Control and Prevention guidelines as best they can, but can't practice real social distancing.
Trooper Alex Figueroa quotes the State Police Call of Honor, emphasizing that officers must enforce the law "without any consideration to class, color, creed or condition."
"We're doing what we need to do," he says. "We have to come to work every day."
As a recruitment coordinator, Figueroa invites candidates to apply and be interviewed online, with testing to come later. "We're waiting, like everyone else," he says, to see when in-person contact will be allowed again.
At home, he and his wife are trying to keep life as normal as possible for their 2-year-old daughter, but he acknowledges "our lives have changed."
Rylee Jade Legreide
Hackettstown, N.J.
Sophomore majoring in public health, health service administration
Student Rylee Jade Legreide has worked for more than two years as an EMT and a firefighter both in Monroe County and at home in New Jersey.
Between picking up overtime at her EMS job and extra shifts at volunteer agencies, she does not have time to go home.
"I have not slept in my own bed in over two weeks now, and collectively have not spent more than one hour in my house since then. All of my agencies have showers and a kitchen so I am meeting my basic life necessities, but it is not the same as my bed at home."
Extreme cleaning makes up a typical day. "Once I get to work I have to spray my car down. I change into my work clothes. I take my temperature. After that I complete my rig check, checking the ambulance to make sure it is fully stocked. After that I have to completely wipe down the interior of the ambulance. Once the inside is cleaned, I clean the outside."
The end of on-campus classes has worked in her favor, since she can keep up with coursework online. Her professors understand if she can't make scheduled Zoom classes.
"They allow me to take timed quizzes/exams at times that are convenient for me. All of my professors post their lectures online so even if I miss the live version I am able to look back at the lecture and not miss a beat."
---
---