East Stroudsburg University Assistant Professors Receives Book of the Year Award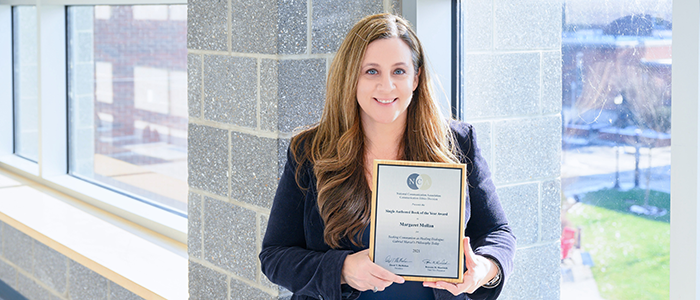 Posted by: Elizabeth Richardson on January 18, 2022, No Comments
Margaret Mullan, Ph.D., assistant professor of communication at East Stroudsburg University, received the Single Authored Book of the Year Award for the National Communication Association Communication Ethics Division. Dr. Mullan won the award for her book Seeking Communion as Healing Dialogue: Gabriel Marcel's Philosophy for Today.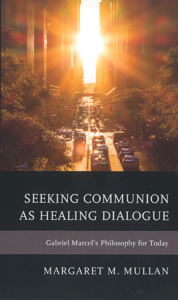 "It is a great honor to have received this award for this project," Mullan said. "Everyone continues to struggle to find places and words for dialogue. In this project I was simply trying to identify some ways to start the dialogue." Her book received high endorsements from significant scholars in the field of communication in the study of communication ethics, philosophy of communication and of dialogue. Among top national scholars who reviewed Mullan's book for endorsements before publication, Dr. Michael Hyde, who stands out in the NCA Communication Ethics Division for his many contributions to and publications in the study of ethical dimensions of communications, notes "This book is a valuable addition to the growing scholarly literature in communication ethics."
Published by Rowman & Littlefield, Seeking Communion as Healing Dialogue: Gabriel Marcel's Philosophy for Today, discusses society's problems with interpersonal communication, arguing that these issues are more deeply rooted in problems in "being." Dr. Mullan draws on the work of Gabriel Marcel to explore the meaning of body, of being with, and of being at all in today's world, answering questions about why we are often unable to dialogue with the people around us, why we feel disconnected and alone even in an increasingly technological world, and how these changing technologies expose and sometimes exacerbate our weak connections to others. Engaging Marcel's reflective method and theory of communion, Mullan explores how we seek communion amid technology and proposes that Marcel's reflections are generative contributions to the understanding and study of communication, offering a way to seek healing dialogue in present day. Scholars of communication, philosophy, conflict studies, and media studies will find this book particularly useful.
The National Communication Association advances Communication as the discipline that studies all forms, modes, media, and consequences of communication through humanistic, social scientific, and aesthetic inquiry. The purpose of the NCA Ethics Division is to promote research and teaching relating to ethical issues and standards in all aspects of human communication and to encourage educational programs that examine communication ethics.
To learn more about studying communication at ESU visit esu.edu/communication.
---
---