East Stroudsburg University Foundation Receives Donation from Longtime Supporter Wayne Bolt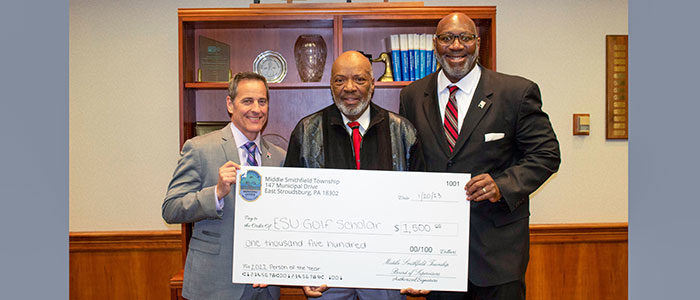 Posted by: Elizabeth Richardson on March 15, 2023, No Comments
Wayne Bolt, a dedicated supporter of East Stroudsburg University, was recently named Middle Smithfield Township's 2022 Person of the Year and graciously donated the $1,500 award to the Prince Hall Endowed Scholarship Fund at the ESU Foundation.
Township residents were given the opportunity to nominate individuals who make a positive impact in the community. Based on the nominations received, an independent panel of judges selected Bolt, recognizing his extensive volunteer work with the ESU Foundation, the Middle Smithfield Township Planning Commission, Seasoned Veterans, YMCA, and the United Way.
In 1988, ESU and the Prince Hall Elementary School located in Philadelphia, Pa., established the Prince Hall Endowed Scholarship Fund. To date, 18 Prince Hall scholars have graduated from ESU because of the scholarship support.
For the past 31 years, the Annual Educational Scholarship Golf Classic has raised funds to benefit the Prince Hall Endowed Scholarship. Bolt is a founding member of the golf outing committee.
In addition to his involvement with Prince Hall, Bolt established the Julianna V. Bolt Endowed Scholarship in honor of his late wife. The scholarship provides financial support to ESU students majoring in digital media technologies. Since the 2011/2012 academic year, the scholarship has provided 12 awards to 11 students.
Bolt also honors Julianna's memory by sponsoring the annual Julianna V. Bolt Art Contest. The contest is open to all Monroe County high school students in grades 9-12. The art pieces must represent aspects of Dr. Martin Luther King, Jr.'s life or philosophy. The winners of the contest are recognized during ESU's Dr. Martin Luther King, Jr. Celebration Breakfast, held every January. Bolt is a member of the breakfast's planning committee.
Bolt's continued generosity and kindness to ESU's students has helped make educational dreams come true for so many Warriors. It is due to the time and talent of volunteers and donors, like Bolt, who make a positive impact on our students today, and in the years to come.
About the ESU Foundation: Since 1986, the ESU Foundation has secured and stewarded private gifts and grants that benefit ESU and its students. Every year, thousands of generous donors support the Foundation and the university in its mission of educating students, research, and public service. For more information on the ESU Foundation, call (570) 422-3333 or visit www.esufoundation.org.
---
---