East Stroudsburg University Mental Health Coalition Focuses on Suicide Prevention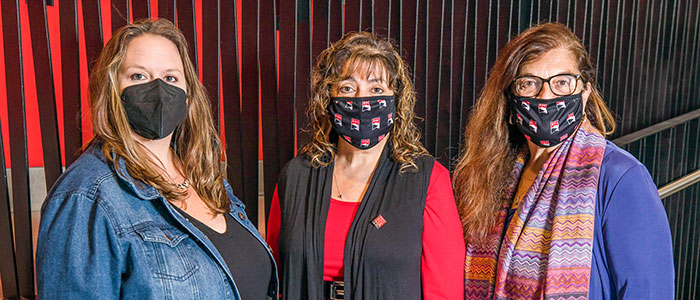 Posted by: Elizabeth Richardson on October 6, 2021, No Comments
The Mental Health Stakeholders Coalition (MHSC), a new partnership between representatives from East Stroudsburg University and stakeholders in the community, has formed with the purpose of addressing issues related to mental illness, with particular focus on suicide prevention.
"When a suicide occurs, it's a community issue," said Dr. Gina Scala, ESU professor and chair of the Department of Special Education and Rehabilitation, and founding member of the Coalition. "If it happens at ESU, or in a school district, it affects the entire community. It is an issue for all of us. I hope this group increases awareness of mental illness, coordinates services and resources, and becomes an established group that responds to the needs of the community at large and minimizes the stigma of mental health."
According to the website for the American Foundation for Suicide Prevention, in 2019 (the most recent data available), 47,511 individuals died by suicide, and 1.38 million individuals attempted suicide. Many of these individuals live with anxiety, depression, or other mental health issues that often go unaddressed for years. They are unable to secure long-term housing or employment and struggle with many aspects of everyday life. Led by Scala and colleagues Tanya Carmella-Beers, instructor, special education and rehabilitation, and Shannon Beavan, ESU graduate student and Stroudsburg Area School District teacher, the Coalition's mission is to erase the stigma of mental illness and bring to light many of issues related to these conditions. Coalition partners include representatives from local school districts, healthcare, law enforcement, faith groups, government entities, and community agencies.
The Coalition originated with a suicide prevention training partnership for ESU with the McDowell Institute for Behavioral Health at Bloomsburg University and Matt Winterstein at Thomas Jefferson University's Higher Ed Suicide Prevention Coalition (HESPC). "All the dots started to connect," Scala said. "Our work was supported by all of that training." Initially, students in ESU's College of Education would receive suicide prevention training as part of Pennsylvania's Act 71 mandate for teachers; Scala said similar training was offered to "small pockets" of the ESU community. The goal was always to go bigger and expand beyond ESU. Scala said, "Our dream has been a community/education partnership centered around a very serious topic—suicide." She was able to secure funding to achieve that dream. Scala and her colleagues invited a group of 29 community stakeholders directly involved with individuals living with mental illness to participate in the initiative. Since the first meeting in April 2021, Carmella-Beers said the group has grown to over 60 participants. "One thing we've done intentionally is keep that membership open. If someone identifies someone important to be there, we want them there," Scala said. "We reach out to anybody."
Besides holding meetings, the Coalition has a comprehensive plan for support strategies, resources, and training on various relevant topics for individuals or groups. "Where things would just come to us here at the University, we now take things to the Coalition and we put them out in the community," Scala said. She points out a recent training was offered to local law enforcement to identify mental health issues during an arrest. "We offer workshops to the community. It's just blossomed into this unbelievable opportunity for everyone." Other groups are reorganizing their efforts thanks to the influence of Coalition members. Carmella-Beers said the Monroe County Suicide Prevention Group has increased their role to providing new programming and resources to the community.
Strategies to address mental health issues vary from person to person, which makes the idea- and resource-sharing within the Coalition so important. Scala said, "People just want to get rid of the helplessness and hopelessness they feel," and often view suicide as the only option; however, help is available.
Upcoming programs include workshops about Overcoming Stigma and Hearing Distressing Voices, and a Make and Take workshop where participants will make a stress relieving tool out of a slime-based molding compound. ESU Provost Margaret Ball said ESU has teamed up with the Pocono Arts Council and will stage a campus production of "Every Brilliant Thing" by Duncan Macmillan and Jonny Donahoe, a play with mental illness-related themes.
The Coalition meets on the second Tuesday of each month; meetings are currently held via Zoom. For more information on the Coalition, contact Scala at gscala@esu.edu or Carmella-Beers at tcarmellab@esu.edu.
---
---