East Stroudsburg University Opens Autism Education Center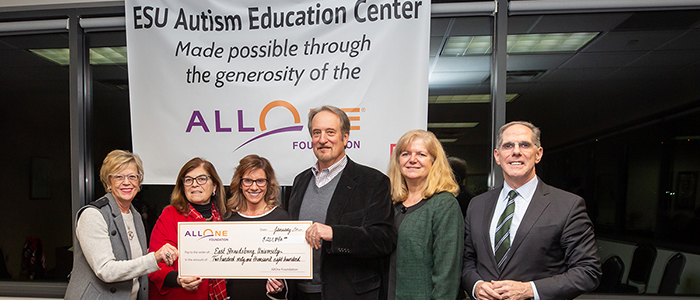 Posted by: Elizabeth Richardson on January 30, 2020, No Comments
East Stroudsburg University of Pennsylvania, in collaboration with the AllOne Foundation's Autism Collaborative Centers of Excellence Network, has established the ESU Autism Education Center.
The center, which opened on Tuesday, January 28, is a multi-disciplinary hub offering referrals, networking, resources, workshops, and training for the broader community, including Monroe, Pike, and Wayne counties, as well as for ESU students, faculty, community teachers and families of individuals with autism.
Through current and planned programming and affiliation networks already in place, the ESU Autism Education Center provides a foundation for improving coordination of care and training opportunities for individuals with autism, their families, and communities.
Pictured from right to left: Marcia G. Welsh, Ph.D., president, ESU; Gina Scala, Ed.D, professor and chair of special education and rehabilitation; Rachel Wolf, Ph.D., associate professor of communication sciences and disorders and director of ESU Autism Education Center; Paul Canevari, board member of AllOne Foundation; Denise Seigart, Ph.D., dean of the College of Health Sciences, ESU; and John Cosgrove, executive director of AllOne Foundation
---
---