East Stroudsburg University opens Bloomberg Finance Lab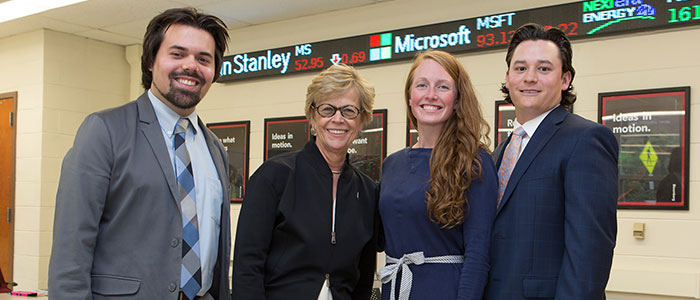 Posted by: admin on April 25, 2018, No Comments
East Stroudsburg University celebrated the opening of its Bloomberg Finance Lab on Tuesday, April 24. Located in Gessner Hall, Room 117, the Lab features the Bloomberg Terminal used by leading business and financial professionals worldwide. The university's subscriptions to the Bloomberg Terminal will enable students to become familiar with tools used in financial services, while faculty members can use it to further their own research.
The Lab was developed through a grant from the Appalachian Regional Commission to purchase 12 Bloomberg Terminals, and the ESU Center for Research and Economic Development provided matching funds for furniture and technology associated with the Lab. Ten terminals are located in Gessner Hall, and two terminals are available at the ESU Innovation Center to serve business accelerator companies and workforce industry partners.
Pictured, from left, are Tyler Day, legislative assistant to State Representative Jack Rader; ESU President Marcia G. Welsh, Ph.D.; Kristin Bush, legislative assistant to State Senator Mario Scavello; and John Pekarovsky III '07, ESU graduate and member of the ESU Council of Trustees. Not pictured is Erin Derosa, legislative assistant to State Representative Maureen Madden, who attended a Bloomberg event earlier in the day.
---
---