East Stroudsburg University Student Wins State System Startup Challenge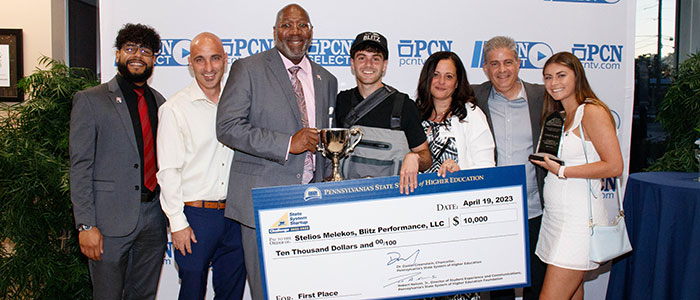 Posted by: Elizabeth Richardson on April 20, 2023, No Comments
East Stroudsburg University student Stelios Melekos won the $10,000 first place prize in the annual State System Startup Challenge, sponsored by Pennsylvania's State System of Higher Education (PASSHE). Melekos, a junior business management student with a concentration in entrepreneurship from Churchville, Pa. created a plan for his business Blitz Performance LLC.
Blitz Performance provides anglers with the highest quality and most innovative lures and apparel for both saltwater and freshwater fishing. Blitz Performance products are available to retail customers online at blitzfishingperformance.com and wholesale at tackle shops across five states. Blitz Performance is committed to building a sense of community around the brand by developing the tools to catch more fish and make the most of anglers' time on the water.
"Congratulations to Stelios Melekos for this victory and I thank every student from across he system who completed this year," said State System Board of Governors Chairwoman Cynthia D. Shapira. "These students are a great example of the innovation and entrepreneurial spirit that is thriving on our campuses. The State System Startup Challenge helps the next generation of business leaders to get their start and demonstrates the partnerships between State System universities and the business community."
Three students participated in the finals by pitching their plans to a panel of business leaders for a chance to win funds to support the start-up or growth of their business.
Jake Henry, a senior pharmaceutical product development student at West Chester University won second place. Victoria Heffelfinger, a freshman special education student from Pennsylvania Western University (PennWest) won third place.
"This business plan competition gives State System students the opportunity to pursue their dreams here in Pennsylvania," said State System Chancellor Daniel Greenstein. "These students remind us about the value of public higher education to strengthen Pennsylvania's economy as they translate a classroom education to real-world experience. Thank you to the students, faculty and universities for making this possible."
The judges for the State System Startup Challenge were Cynthia Pritchard, Vice President, Senior Philanthropic Specialist for Wells Fargo; David Kerr, President of External Affairs for AT&T, Adam Stewart, Vice President of Strategic Growth Marketing and Relationship Management for PSECU, and Taylor Rowles, Senior Manager of Market Integration for Hershey Entertainment & Resorts Company.
---
---