East Stroudsburg University Students Intern in Washington, D.C.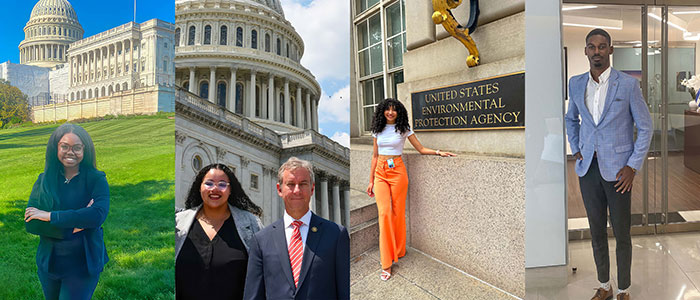 Posted by: Elizabeth Richardson on August 2, 2023, No Comments
Four East Stroudsburg University students are spending the summer in Washington, D.C. interning with organizations, agencies and legislators. They are serving as interns through the Washington Center, a nonprofit organization that provides internships and seminars to college students interested in learning more about government, politics, and how public policy is shaped. Several students participated in academic seminars in January and May at TWC, before returning as summer interns.
Jordan Drew, Damali Jackson, Richermy Batista and Yasmeen Zaczkiewicz are living at the Washington Center for the summer while completing their internships. Drew, a senior political science major from East Norriton, Pa., is gaining real-world experience through his internship with the Embassy of El Salvador and taking advantage of living in the nation's capital. "It's been amazing!" he said. "I'm getting a different taste of vibrant cultures, and it's definitely fun to be more independent in a big city." Drew has worked in different departments at the Embassy over the summer. Assisting El Salvadoreans with getting and renewing documents like drivers' licenses and passports has been a major task. He has also escorted lawmakers and other dignitaries to functions in the Embassy and attended meetings about various t issues that impact constituents.  "Working in the Embassy has shaped my career path tremendously," he said. "Being exposed to international diplomacy as a political science major—we learn and study about it in class, and now I'm living it every day. The exposure has broadened my understanding of political science by giving me practical insights." Drew plans to enlist in the U.S. Navy after graduation. His internship is helping to shape his post-military career and he envisions a future in international affairs. "It feels like I'm in the right place—this is where I see my future after I leave the Navy," he said.
Jackson, a junior communications major and political science minor from Henryville, Pa., is making the most of her internship with the National Organization for Youth Safety, a youth-led, youth-powered organization that helps young people through its programming. "I'm not sure what I want to do yet—I'm thinking of going into education—but I am taking the opportunities the university is giving me and powering through, taking the resources I'm given and seeing where they lead," she said. A programs intern, Jackson is applying her writing and communication skills to a development work plan for a seat belt safety initiative, among other projects. "I'm contacting a bunch of high schools around the country so they have a greater understanding of seat belt safety. I'm also working on helping to recruit organizations for a national transportation fellowship equity program. I'm doing a lot of research on organizations in specific areas and going to a lot of meetings with them," she explains.
Batista, a junior political science major from Hazleton, Pa., is an intern with the Environmental Protection Agency (EPA)'s Office of Public Affairs. "My duties are mostly communication-related," she said. Fielding media requests, tracking news about the agency, and posting news releases to various outlets are among her regular duties. She also conducts research for projects or at the request of other departments. "I'm a political science and public administration double major, and my classes definitely helped because I learned about the EPA," she said. "My colleagues have been amazing—there's this real sense of family away from home," she said. "At the Washington Center, I've noticed I have so much in common with students from around the country. It's just this hub of people from all over the world."
Zaczkiewicz is a graduate student from Phoenixville, Pa. studying political science and interning with U.S. House of Representatives Congressman Matt Cartwright's office. She answers and logs calls from constituents, helps legislative staff with projects, and greets visitors, with occasional Capitol tour guide duties added to the mix. "Living in DC has been an enriching experience," she said. "Every weekend, we find something new to do or somewhere new to go." Some of the students attended the Fourth of July fireworks and concert at the Capitol and say it was a highlight of their summer.
ESU faculty and staff played key parts in helping the students obtain their internships. "Dr. Kimberly Adams played a huge role in the process of this internship," Zaczkiewicz said. "I attended The Washington Center Academic Seminar with her and other students in January 2023. If not for that experience, I do not know if I would be sitting on Capitol Hill in this internship right now. Dr. Adams has always said she is about creating opportunities for her students outside of the university, and I now know that to be true." Each student also credits the staff of ESU's career development center with improving their interviewing and resume writing skills.
It's been a summer of personal and professional growth for the students, "Being in the field gives you an overall idea of where you can go and what you can do," Drew said. "If I didn't get this experience, I wouldn't know where to start. My first week of the internship was hard but I took a breath and now I know what I'm doing. This has been the best experience of my life."
Jackson is encouraged by the representation she has experienced over the summer. "Now I know I can work in DC—I didn't think that as a black woman I can be here, but I am seeing representation of myself," she says. "I would encourage other students to do this program or one like it. It's important to know you have to be comfortable with being uncomfortable. It's taught me so much—there's a lot to learn from this type of experience."
For more information about the Washington Center programs. contact Dr. Kimberly S. Adams, professor of political science, by calling (570) 422-3924 or email ksadams@esu.edu.
---
---