ESU Alumnus Runs in his Eighth Empire State Building Run-Up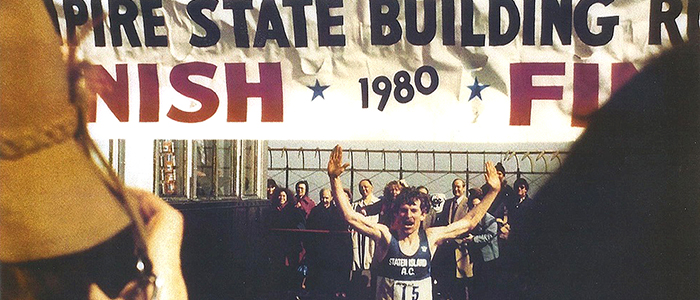 Posted by: admin on February 11, 2015, No Comments

As a young boy, James Ochse '77 '87 chased his grandpa's cows around the farm. He loved the feeling of his feet hitting the dirt road and the freedom of running in a wide open space. "Back in the day, we did not have a lot of high tech gadgets," he said. "Running was my form of entertainment."
On February 4, Ochse brushed off his sneakers to complete his eighth Empire State Building Run-Up, where runners accept the challenge of climbing 1,576 steps to the top of the Empire State Building.
He won the inaugural event in 1980, clocking a time of 12 minutes, 19 seconds. He won again in 1982, when he leaped to the finish line at 11:42. In last week's Building Run-Up, Ochse finished first in his age group (60-64). He says this race was his last.
In the early years of his running career at ESU, Ochse was a part of the track team as a cross country runner. It was on the campus that Ochse met the legendary track coach, Dick DeSchriver, whom he considers a mentor. He graduated in 1977 with a degree in environmental studies and a second degree in physical education and athletic training 10 years later.
Making a decision to earn a second degree, Ochse admits he felt a little different as a non-traditional student.
"I felt like a big brother to most of my classmates," he said. "I had grown up a lot and it allowed me to bring a new perspective to the classroom."
Growing up on ESU's campus, Ochse was constantly advised by professors. He looks at the university as a place that prepared him for the rest of his life, stating that his professors had great philosophies that allowed him to steer his future goals.
Ochse chased those goals soon after graduating from ESU. He worked in athletic training in Arizona, Florida and West Virginia, until finally returning to Pennsylvania in 1999 to work at DeSales University, where he stayed for 11 years.
After leaving DeSales, Ochse opened his own personal training business, James W. Ochse Fitness and Consulting, to coach runners and develop programs specific to their speed, agility and quickness.
In the same way he spends his time training runners now, Ochse had key relationships that made him a better runner. Famed Olympic New Zealand coach Arthur Lydiard and Olympic marathoner Ted Corbett were instrumental to his success. "I met Red Corbett in 1976 in New York City- he saw my potential and became my mentor," he said. "Arthur Lydiard also gave me a lot of good advice and helped me become a nationally ranked ultra-marathoner from 1980-1985."
It was in 1980 that he competed in the Building Run-Up for the first time. After a great victory, Ochse recalls receiving national media attention a few days prior to the country's "Miracle on Ice," the notable ice hockey game victory during the Olympics in 1980.
With the Building Run-Up behind him, Ochse wants to continue to spend his life as "an ordinary person who does extraordinary things."
---
---