ESU and Rodale Institute Sign Memorandum of Understanding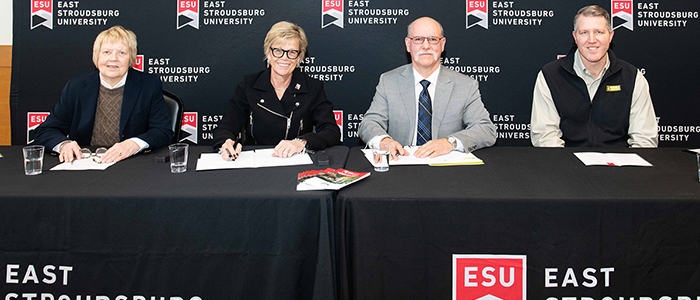 Posted by: Elizabeth Richardson on January 15, 2019, No Comments
East Stroudsburg University of Pennsylvania (ESU) announced today a formal partnership/agreement with Rodale Institute, a non-profit organization and world leader in regenerative organic farming, to foster collaborative and educational initiatives between the two organizations.
"We are excited to welcome Rodale Institute to our community," said Joanne Z. Bruno, J.D., provost and vice president of academic affairs. "I have no doubt this partnership will lead to exciting collaborative work between Rodale scientists and educators and ESU faculty and students," she said.
This Memorandum of Understanding (MOU) will create opportunities for faculty and students in the form of research projects and internships from a wide variety of fields including science, art, business, marketing, and public administration.
Both institutions will enjoy the ability to share their resources in the form of laboratory services, field sites and business management practices while providing students with valuable experiences needed for successful careers and or post graduate programs.
For more information about the partnership with ESU and Rodale Institute, please contact the office of the provost by calling 570-422-3539.
---
---