ESU Announces Scholarship, Award Winners to be Honored at 24th Annual Dr. Martin Luther King Celebration Event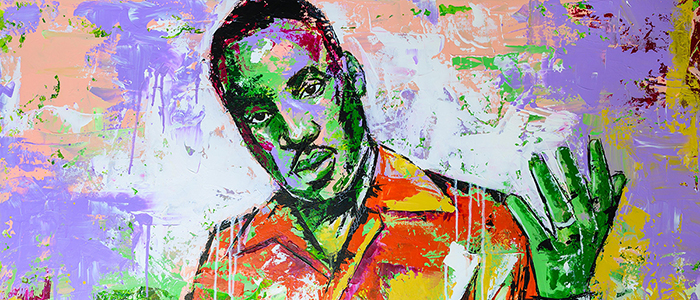 Posted by: Elizabeth Richardson on January 9, 2021, No Comments
East Stroudsburg University of Pennsylvania has announced the 2021 Boddie Scholarship and Martin Luther King Jr. awards recipients to be recognized at the 24th annual virtual Dr. Martin Luther King Jr. Celebration scheduled for Monday, January 18 at 6 p.m.
Boddie Scholarship Recipients
The Mary Gertrude Smith Boddie Scholarship Fund provides financial assistance to undergraduate students of color at ESU. In 1904, Ms. Boddie was the first African-American student to graduate from what was then known as East Stroudsburg State Normal School, which ultimately became East Stroudsburg University in 1983. The students who apply for this scholarship are asked to describe, in essay form, their commitment to social justice through community and university involvement.
The Mary Gertrude Smith Boddie Scholarship recipients are: Brittni Borgella, a senior history major from East Stroudsburg, Pa.; Ariel Kyle, a sophomore majoring in special education/early childhood education from Denville, N.J.; Shade Stokes-Campbell, a junior public health major from Upper Darby, Pa.; and Alexis Starr Wilson, a senior early childhood education (PreK-4) major from Nanticoke, Pa. Each of the four students will receive a $3,350 scholarship award for the spring 2021 semester.
Borgella, a transfer student, attributes her grit and passion for education to her parents. Born of Jamaican and Haitian descent, Borgella took an interest in history and law primarily because her father was a history teacher. Her mother is a registered nurse, and she credits both of her parents with her ability to do the hard work necessary to earn her degree and fulfill her dreams. Borgella is pleased that she's found a home at ESU that is welcoming. She is a member of the Tau Sigma honor society and looks forward to graduating and becoming an educator that will "impact the lives of other students, helping them to understand the reality of social issues and how the past impacts today."
Kyle has used her childhood experiences in foster care and as a camp counselor for individuals with special needs to help shape career path in early childhood and special education. Kyle attributes her strengths to the influences of African American female role models within her church community who offered (and continue to offer) her guidance, and the academic programs, cultural diversity and track program at ESU that helped to shape the person she is today. Kyle looks to the knowledge she gains as an ESU student as a foundation of her future.  According to Kyle, "I believe that what you do matters. It shapes who you become."
Stokes-Campbell has envisioned a career in healthcare administration – not simply to care for patients but to ensure they have access to affordable treatment. To prepare for a leadership role, she has been involved in a host of campus organizations since her freshman year. She currently holds executive board positions for the National Council of Negro Women (third year on executive board, second year as treasurer), the Black Student Union (second year on executive board, first year as public relations chairwoman), and the Student Government Association (first year on executive board, first year as public relations chairwoman). She has also attended the Black Solidarity Conference, a three-day conference at Yale University, and the Sankofa Conference at Bloomsburg University where she met the late Trayvon Martin's mother. Stokes-Campbell is also part of the Women of Color Initiative committee (WOCI) as well as the Diversity and Inclusion committee. Prior to the COVID-19 pandemic, Stokes-Campbell also held down three part-time jobs on campus as a peer mentor (to more than 50 first-year students), resident advisor and program assistant for Admissions. She continues to work two of those jobs remotely while also working a full-time job as she continues her studies in public health.
Wilson attributes her academic success to her family – her mother, brother and grandmother. But her passion to pursue a degree in early childhood education and work with children of all ages is deeply rooted in her internship at Disney as well as her experiences within a daycare, babysitting for a new family and working both a day and residential camp. A transfer student, Wilson discovered and honed her leadership skills as a member of Psi Xi, ESU's chapter of the Zeta Phi Beta Sorority Inc. and has expanded her involvement to her post as the president of the University's Cultural Greek Counsel, vice president of her sorority and in her on-campus positions as an orientation leader, a tour guide and as a member of the University Police team while also starting her own small business. Wilson prides herself in her communication skills and truly enjoys her opportunities to welcome incoming freshmen and get to know the newest of students. She also knows that the connections she has made at ESU have helped her to build self-confidence and discipline that will certainly help her in all her future endeavors.
Martin Luther King Jr. Award Recipients
The Martin Luther King Jr. Award recipients exemplify characteristics of Dr. King's philosophy of non-violence, equality, justice, cultural diversity and respect for humanity. Awards will be presented to an ESU student, one staff member, and one member of the local community.
Marcus Narcisse, a December 2020 graduate who majored in special education and rehabilitative services from Orange, N.J. has been selected to receive the Martin Luther King Jr. Student Award.  R. Samantha Williams, a counselor/instructor in ESU's Counseling and Psychological Services department from Mt. Pocono, Pa., is the recipient of the 2021 Staff Award, and Christa Caceres, president and political action committee chair of the Monroe County Branch of the NAACP from Bushkill, Pa., is the recipient of the Community Award.
Narcisse spreads his passion for empowering those with disabilities and supporting those with cancer across ESU's campus. During his junior year at ESU, he lost his mother, to cancer. Moving forward, Narcisse made a personal commitment to honor his mother's life by dedicating his education and involvement in campus activities to purposeful community service and volunteerism. Narcisse is currently a member of ESU's marching band and the national honorary fraternity, Kappa Kappa Psi and he also took an active role in campus fundraising initiatives associated with Colleges Against Cancer. Proud of his Haitian decent, Narcisse also considers himself an advocate for hope and positivity and is a great example of Dr. King's own words,  "…We must accept finite disappointment. But never lose infinite hope."
The University Faculty/Staff Award recipient is R. Samantha Williams, a counselor/instructor within the counseling and psychological services (CAPS) department at ESU. New to the ESU community, Williams has added tremendous value to the campus in understanding and addressing the mental health needs of ESU's student population, particularly during these stressful times of the COVID-19 pandemic. According to her nominator, Williams' efforts will "…provide our communities with not just more strong graduates who are well rounded academically, but also equipped with the necessary mental stamina to become healthy, balanced and reliable leaders."
Williams' primary responsibility is to provide a full-range of psychological services to ESU students. Duties include completing intake assessments, individual and group counseling, crisis intervention, outreach programming, referral, timely completion of clinical documentation, and related duties within CAPS. She also engages in activities of service to the University and the surrounding community.
Williams brings nearly 15 years of counseling and mental health services to ESU.  Most recently, she was a therapist with Greater Insight Family Therapy in Mt. Pocono and earlier in her career, she was a caseworker, supervisor then program manager for Monroe County Children and Youth Services for eight years. Williams earned her master's degree in mental health counseling from Mercy College in Dobbs Ferry, N.Y. She is a licensed professional counselor for Pennsylvania (LPC), a board certified – national certified counselor in Pennsylvania (BC-NCC), a certified clinical trauma professional (CCTP), a board certified tele-mental health provider (BC-TMH), a certified child welfare trainer and a quality service reviewer for child welfare.
The 2021 MLK Community Award honoree, Christa L. Caceres, has been a resident of the Pocono Mountains for more than 15 years. In addition to her roles as president and political action committee chair of the Monroe County Branch of the NAACP, she also serves the eighth congressional district in Pennsylvania as a constituent advocate for the Honorable Matt Cartwright.
According to her biography, Caceres, a childhood survivor of domestic violence and sexual abuse, is focused on issues associated with women, children and sexual assault victims. Her leadership and advocacy has led her to hold seats on local advisory committees and membership in several organizations. She is on the board of directors for Safe Haven of Pike County, the Greater Pike Community Foundation, the Pocono Mountains United Way (PMUW) and is co-chair for PMUW's Diversity, Equity and Inclusion Cohort. Her influence in the regional community is profound. In 2019, Caceres was named the Pike County director of the PA Democratic Black Caucus and in 2020, following the nationwide review of law enforcement, she formed the Monroe County Community Roundtable intended to unite regional chiefs of police with local NAACP to develop positive changes for the community.
Caceres earned her bachelor's degree in legal studies – jurisprudence and a master's degree in legal studies – law and public policy from California University of Pennsylvania. She enjoys spending time with her husband of more than 15 years.
For more information about the virtual Dr. Martin Luther King Jr. Celebration or for special accommodations, contact Cornelia Sewell-Allen, D.Ed., assistant vice president for inclusive excellence, at 570-422-4017 or email csewell@esu.edu.
Register for the Dr. Martin Luther King Jr. Celebration at esu.edu/mlk.
---
---