ESU Announces University Leadership and Service Award Winners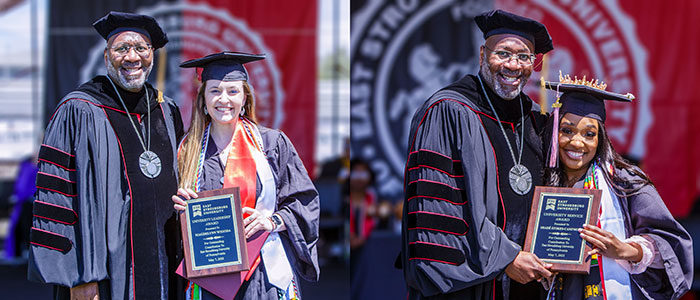 Posted by: Elizabeth Richardson on May 9, 2022, No Comments
Graduating seniors Shadé Stokes-Campbell and Magdelynn Wigoda have spent their years at East Stroudsburg University with a desire to lead and serve others.
Stokes-Campbell, a public health major from Philadelphia, Pa., was awarded the University Service Award for the 2021-22 academic year. Wigoda, a communication sciences and disorder major from Minersville, Pa., was awarded the University Leadership Award.
The University Leadership and Service Awards are the highest non-academic honor a graduating senior can receive for their work as a leader in cocurricular activities on campus or in participation in activities and services off campus. To be eligible, applicants must have held office or demonstrated participation in a minimum of three clubs, activities, and committees, have a grade point average of 2.6, and be in good standing.
Both award recipients were immersed in student life during their time on campus.
Stokes-Campbell served as president of the National Council of Negro Women, president of the Black Student Union, and public relations committee chair for the Student Government Association. She was also a member of the Women of Color Initiative, the Residence Hall Association, Community Health Organization, Moses Society, and the National Residence Hall Honorary. She was an orientation leader, peer mentor, head resident advisor of Sycamore Suites, a peer educator for Wellness, Education, and Prevention, and a Health and Wellness intern.
"Over the last four year, I have become my own wildest dream. I became the woman my six-year-old sister could look up to and a person my 10-year-old self would admire," Stokes-Campbell said. "I have had the honor of serving my peers of all races, creeds, and colors by collaborating with almost every department on this campus. I worked to leave my mark on ESU and in the hearts of everyone I have met here."
Wigoda served as captain of the women's basketball team, president of The Hidden Opponent, and was a member of the National Student Speech Language Hearing Association, the Sign Language Club, Autism Speaks U, and East Stroudsburg Shutters. She served as a tutor, an academic mentor for the CILLS program at ESU, and was a student worker in the athletics department. Wigoda was also a volunteer with Special Olympics, Lantern Fest, at track and field meets, and the Pennsylvania Speech Language Hearing Association Convention. She, along with her teammates, participated in coin collections and collected toiletries for Scavenger Scouts. She was a server at St. Luke's Church, campus captain for The Hidden Opponent, a mental health advocate for Galea Health, and an ambassador for Let's Get Real.
"I helped establish ESU's chapter of The Hidden Opponent to give student-athletes and everyone else with a busy schedule a chance to be a part of a community that allows a safe place to be yourself," Wigoda said. "I wanted to create a safe space for people to get to know others who have the same struggles."
ESU awarded 1,021 undergraduate and graduate degrees at a commencement exercise on May 8.
---
---