Art + Design Faculty, Students Got to Work Creating Better Face Shields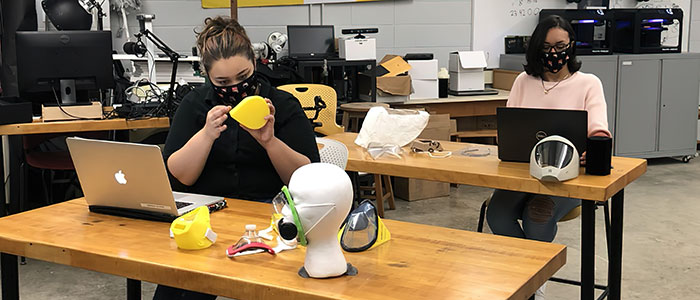 Posted by: Elizabeth Richardson on March 1, 2021, No Comments
In the midst of the pandemic that has left so many people feeling isolated, two East Stroudsburg University professors and three students collaborated on designing face shields that can make human contact safer and communications easier.
The collaboration started late last March when art + design professor and department chair Darlene Farris-LaBar and assistant professor Xue (Stella) Dong got the idea to create headbands that attach to transparent face shields, making them lighter and less bulky. Working in ESU's 3D printing Stratasys Super Lab, they designed the model and then got help from Joe Sinclair, founder of the Verde Mantis 3D printing company at the ESU Innovation Center, to mass produce the personal protective equipment (PPE).
To make sure the multitudes could benefit from their work, the professors posted the instructions for how to make the face shields and headbands online, giving permission for all to use the formula.
"ESU put the file on its website and we just said 'Take it for free,'" Farris-LaBar said. "We had places in Seattle, in France, Innovation in Easton, GoggleWorks in Bethlehem, they were all 3D printing our work. I had a family in my neighborhood who had two old 3D printers and he was just mass producing these."
"People have been willing to volunteer and give their time unselfishly to help the supply chain," she said.
ESU's Office of Accessible Services Individualized for Students – OASIS – reached out to Dong and Farris-LaBar because they had hearing impaired students and faculty on campus who found it difficult to communicate when everyone was wearing masks.
"We're trying to solve other problems," Dong said. "Like when you're wearing a mask, it's really hard for other people to see your expressions and it's hard to project the sound outside."
The next step was to engage ESU students in the endeavor.
"We really wanted to involve students to remind them of their social responsibilities and also put them in a creative mindset," Dong said.
So over the summer, three students became paid researchers working on their own PPE prototypes to improve face shields.
A $2,500 Out of the Box grant from ESU's Office of the Provost paid for the purchase of materials and each student was paid $600 through an ESU Summer Undergraduate Research Experience (S.U.R.E.) grant.
Senior Katrina Stenger worked on making a mask that was clear so when a person is in a conversation, other people can better read their facial expressions.
"It was a very fun, creative process," said Stenger, from Stroudsburg, who is majoring in integrated art + design with a double concentration in product design and graphic design. "It's an inspiration for students. We're the future, we're the young minds at work, and we're trying to contribute."
Madina Khan, a senior from Copenhagen, Denmark majoring in business management, fashioned a face shield that enhanced voice amplification to make it easier for people to talk and be understood while wearing it.
"It was genius what she came up with," Stenger said.
Jadelyn Cardenales, a sophomore from Perth Amboy, N.J., studying integrated art + design, created clips so face shields could be clipped onto ball caps. In addition, Cardenales got an idea for making the pandemic experience and PPE less frightening for kids.
"She was also creating little tiny [face shields] for stuffed animals so they could go to children's hospitals and it would make the experiences of seeing the doctors wearing them friendlier and fun for the kids," Farris-LaBar said.
The students received feedback on their designs from 3D printing expert Robert "Chuck" Stewart, president of Computer Techies, and Laura Walker, the clinical safety programs manager at the Occupational Safety Management Department at Lehigh Valley Health Network.
The project gave the team valuable experience in collaborating remotely, Dong said, and it was especially gratifying that the students were recognized for their achievements.  ESU's PPE design project was featured at the "Masks and Makers" exhibit of the College of Central Florida that ran through September and at the 2020 Pennsylvania Art Education Association Conference in October.
The project also resulted in Stenger getting job opportunities.
Plus, there were rewards that were less tangible, but no less real, according to Farris-LaBar. The professors and students were able to use their talents and knowledge for the greater good.
"This opportunity was wonderful in that we were able to give to the planet, to the world, at a time when there's not much hope," she said.
---
---