ESU Awarded $5 Million National Science Foundation Grant for Continued Scholarships and Research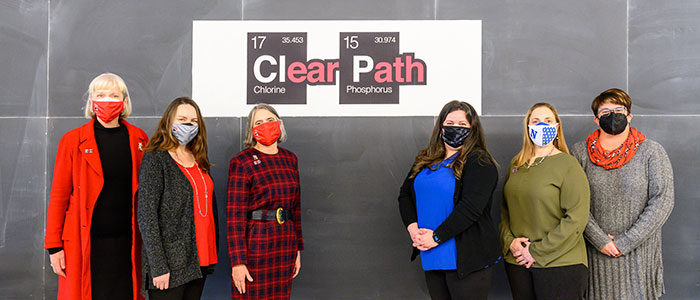 Posted by: Elizabeth Richardson on January 6, 2022, No Comments
In 2016, East Stroudsburg University (ESU) received its largest single grant ever awarded from the National Science Foundation (NSF) totaling $4 million to help transfer students complete their education at ESU in the fields of Science Technology and Math (STEM).
Today, at a press conference with community college partners, ESU announced a second NSF grant of nearly $5 million ($4,982,181), the largest grant in the University's history, to continue the University's work on that original grant which was dubbed Clear Path. This new iteration of the grant –Clear Path 2 (CP2) – provides scholarships of up to $10,000 a year for 135 students to support the timely completion of their STEM associate and subsequent STEM bachelor's degrees through the implementation of an evidence-based, sustainable, transferrable program that maximizes student success. The grant is a partnership among ESU and Northampton Community College, Lehigh Carbon Community College, Luzerne Community College, and Community College of Morris.
In addition to millions of dollars in scholarships, the Clear Path grant supports students with proactive developmental advocacy holistic advising, cohort activities, peer mentoring and tutoring and mentor mediated online education that fosters development of traits associated with academic success.
"ESU is proud to note that 79 students have graduated in STEM fields thanks to the initial Clear Path grant," said Margaret Ball D.M.A., interim provost and vice president for academic affairs at ESU. "To receive this award again, in an increased amount, is a reflection on the professors' collective and individual commitment to recruiting and supporting students, including women and students of color who are often disenfranchised from pursuing a career in the sciences."
Scores of community college students going into STEM fields will be able to transfer to ESU and graduate on time with minimal debt, according to Dr. Ball.
"Building upon the success of CP1, CP2 has selected successful program components that can be assessed and scaled and applied beyond the Clear Path team," said T. Michelle Jones-Wilson, Ph.D., professor and department chair of chemistry and biochemistry at ESU and principal investigator for the grant. "Through CP2 programing and intervention we will increase associate degree completion to greater than 90% with effective advising and scholar support. We'll maintain a 90% program retention rate with a 2.8 GPA minimum, reduce the transfer deficit through Clear Path programming, and increase underrepresented populations by employing methods that support diverse populations."
"This grant will allow our team to better understand how identified success predictors affect STEM student retention and degree completion," said Olivia Carducci, Ph.D. professor and department chair of mathematics at ESU and a co-principal investigator of the grant. "We will mathematically model what we deem a causal path towards success and create research-based student support structures building upon and advancing the science of teaching and learning."
The principal investigators for CP2 are Dr. T. Michelle Jones-Wilson, professor and department chair of chemistry and biochemistry at ESU; Dr. Olivia Carducci, professor and department chair of mathematics at ESU; Dr. Danielle Ringhoff, assistant professor of chemistry at Northampton Community College; Joanne Z. Bruno, J.D., ESU's former provost and vice president of academic affairs; and Dr. Kristin Noblet, assistant professor of mathematics at ESU.
For more information about the Clear Path scholarship visit esu.edu/clear_path.
---
---