ESU Business Accelerator Startup Wins Bizzy Award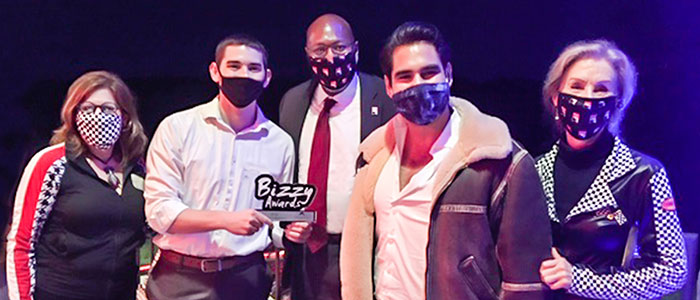 Posted by: Elizabeth Richardson on September 18, 2020, No Comments
Verde Mantis, LP, mantis3dprinter.com, a 3D manufacturing company participating in the East Stroudsburg University Business Accelerator located in the ESU Innovation Center, earned top honors in the Best New Business category during the Pocono Chamber of Commerce 2020 Bizzy Awards held on September 17 at Kalahari Resort Pocono. Verde Mantis, a premier 3D printer manufacturer in Pennsylvania, created the Mantis, the world's easiest to use 3D printer. The Mantis eliminates the 3D printing learning curve and allows anyone to 3D print in minutes. The company was founded in 2019 by Joseph Sinclair. Earlier this year, in response to the need for COVID-19 PPE, Verde Mantis leveraged its engineering expertise with the innovative design techniques from ESU's art + design department to create prototypes of face shields, stethoscopes, and respirators needed by the Pocono and Lehigh Valley medical community.
Pictured at the awards ceremony, from left are: Jamie Kizer, interim director of entrepreneurship, ESU; Joseph Sinclair, president, Verde Mantis; Kenneth Long, interim president, ESU; Wes Hart, marketing director, Verde Mantis; Mary Frances Postupack, vice president, economic development and entrepreneurship, ESU.
For more information about ESU's business accelerator program, visit esu.edu/entrepreneurship/startup/business-accelerator.
---
---