ESU Celebrates Latinx Heritage Month with Sra. Joyce M Ramos Gomez de Avila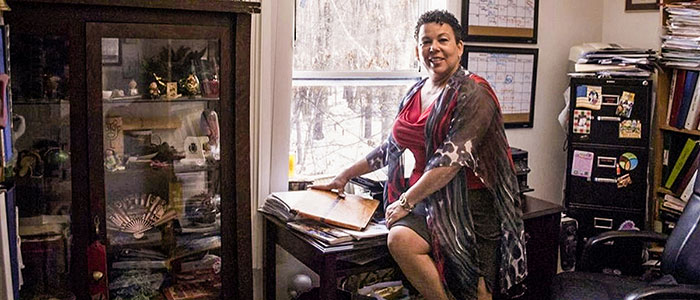 Posted by: Elizabeth Richardson on September 15, 2020, No Comments
To celebrate Latinx Heritage Month, East Stroudsburg University will welcome Sra. Joyce M Ramos Gomez de Avila, the President of CAFÉ Creating and Facilitating Equality, as she delivers a virtual keynote address on Tuesday, September 22 at 7 p.m. The program will take place via Zoom and is open to the public at no cost.
ESU's Center for Multicultural Affairs and Inclusive Education will host Ms. Ramos Gomez de Avila's presentation, "About Being Brown," which will discuss the importance of celebrating Latinx Heritage Month and one's identity. This presentation will also address how current events of Black Lives Matter may be interpreted by some who consider themselves brown.
Ramos Gomez de Avila is a Puerto Rican who came to live in Brooklyn, N.Y. in 1978 and has been a resident of Tobyhanna, Pa. for the past 25 years. Climbing the corporate ladder in international banking for nine years, she decided to change her career direction and enrolled in graduate school. She received her Master's in Bilingual – Bi Cultural Education and has been a classroom teacher in Puerto Rico, Brooklyn (N.Y.) Public Schools, Bethlehem Area School District and Pocono Mountain School District. At Pocono Mountain she created and implemented the ESL Program. In 2006 she was nominated and selected as Role Model for young women in PA by the Pennsylvania Commission on Women and Featured in "Voices: African American and Latina Women in Pennsylvania Share Their Stories of Success."
Currently, Ramos Gomez de Avila is the president of her own company, CAFÉ Creating and Facilitating Equality. As a presenter, facilitator, keynote speaker and educator, she organizes and facilitates workshops in the areas of diversity, life change and transition, leadership, communication, conflict resolution, stress management and self-care. This type of work is not new to her as she was former director for Northeastern Pennsylvania Diversity Education Consortium, assistant director for Diversity Institute, and diversity director for Keystone College. Ramos Gomez de Avila also works across the nation as a minority leadership trainer for the National Education Association and is an adjunct professor for Keystone College and Misericordia University.
As a Puerto Rican American, Ramos Gomez de Avila has had intimate experience with bigotry directed towards herself and her community. She believes that two components are essential to assist individuals in becoming culturally competent: first, to be self-aware of one's own myths, misconceptions, stories and prejudices; and secondly, to be honest, curious and sensitive in your approach with people of different cultural and racial backgrounds, so that true connection and understanding of others can take place.
The link to attend the virtual Latinx Heritage Month keynote presentation via Zoom is https://esu-online.zoom.us/j/92491709878. For more information contact L. Jamila Fleming, director of ESU's Center for Multicultural Affairs and Inclusive Education, by emailing lfleming@esu.edu.
---
---