ESU Celebrates Native American Heritage Month with Delaware Tribe of Indians in Oklahoma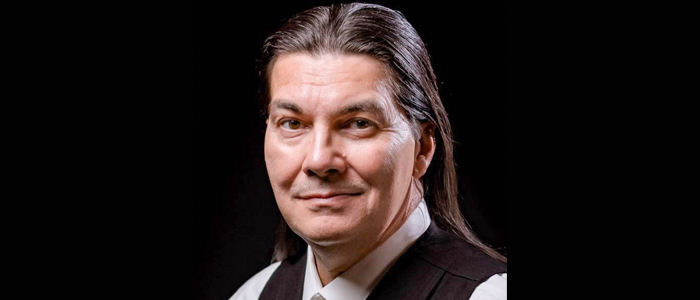 Posted by: Elizabeth Richardson on October 28, 2019, No Comments
To celebrate Native American Heritage Month, East Stroudsburg University will welcome Mr. Curtis Zunigha, cultural director for the Delaware Tribe of Indians of Oklahoma, to campus on Monday, November 18 from 6 – 8 p.m. The program will take place in Beers Lecture Hall and is open to the public at no cost. Zunigha will provide a history lecture and a cultural program that will include songs and dances.
ESU announced a formal partnership with the Delaware Tribe of Indians of Oklahoma in September 2018. Through this partnership, The Delaware Tribe of Oklahoma moved its Eastern Tribal Historic Preservation Office to the campus of ESU. This partnership enables collaboration between the tribe and the University's students, faculty and staff to work with archeologists, historians and government agencies. It helps others learn from the long and proud legacy of Indian tribes in the region in way that supports existing programs and will lead to the development of new, interdisciplinary programs. The partnership also provides opportunities for undergraduate research and distance learning as well as the chance to share grant funding and provide student scholarships.
An enrolled member of the Delaware Tribe of Indians of Oklahoma, Zunigha is an acknowledged expert on Delaware/Lenape culture, language, and traditional practices. He has served his tribe over the years in many capacities of governance, program administration, and personnel management. He has served the tribe as Tribal Councilman, Election Board Chairman, Housing Authority Director, and from 1994-1998 as Chief of the Delaware Tribe of Indians. He has over 20 years of experience in tribal government, community development, cultural preservation, and telecommunications.
His multimedia experience includes writing, producing, directing, acting, narrating, and composing/performing traditional music.
Zunigha is an accomplished public speaker, workshop facilitator, and panel moderator. He is known throughout Indian Country as a master of ceremonies at cultural performances and events.
Mr. Zunigha is co-founder and co-director of The Lenape Center, based in New York City, which promotes the history and culture of the Lenape people (also known as Delaware Indians) through the arts, humanities, social identity, and environmental activism. (www.thelenapecenter.com)
Zunigha is a member of the Council of Advisors to The Association on American Indian Affairs, a non-profit organization serving Indian Country for over 90 years to protect sovereignty, preserve culture, and educate youth. (www.indian-affairs.org)
Zunigha has extensive experience working with youth groups such as the Boy Scouts of America and the Boys & Girls Clubs of America. He is a veteran of the United States Air Force.
---
---