ESU Foundation Receives Grant from the Wawa Foundation to support the ESU Speech and Hearing Clinic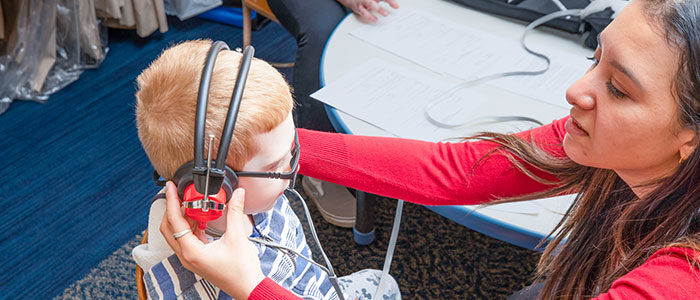 Posted by: Elizabeth Richardson on January 30, 2023, No Comments
The East Stroudsburg University Foundation was recently the recipient of a $2,500 grant from the Wawa Foundation to support the ESU Speech and Hearing Clinic in purchasing necessary equipment.
The grant award will allow the clinic to purchase an audiometer, which will be used to screen the hearing of preschoolers who reside in Monroe County, Pa.
For the past 15 years, the ESU Speech and Hearing Clinic has been committed to improving the lives of at-risk children by screening hearing and speech delays as early as possible. If undetected, hearing and speech problems can lead to communication, reading, social, and academic issues throughout a child's life.
"Wawa is an ESU campus favorite and I am so grateful to the Wawa Foundation for their support for our speech and hearing clinic and the important work that we do to serve the children in our community," said Dr. Susan Dillmuth-Miller, associate professor of communication sciences and disorders.
The support the ESU Foundation receives from organizations like the Wawa Foundation enriches the lives of ESU's students and strengthens the entire ESU community.
"We are so grateful for the Wawa Foundation's generous support," said Rich Santoro, ESU Foundation executive director. "Their investment in ESU and the surrounding community will leave a lasting impact for years to come."
About the ESU Foundation: Since 1986, the ESU Foundation has secured and stewarded private gifts and grants that benefit ESU and its students. Every year, thousands of generous donors support the Foundation and the university in its mission of educating students, research, and public service. For more information on the ESU Foundation, call (570) 422-3333 or visit www.esufoundation.org.
---
---