Grad Selected for Prestigious Film-Writing Training Program with Universal Studios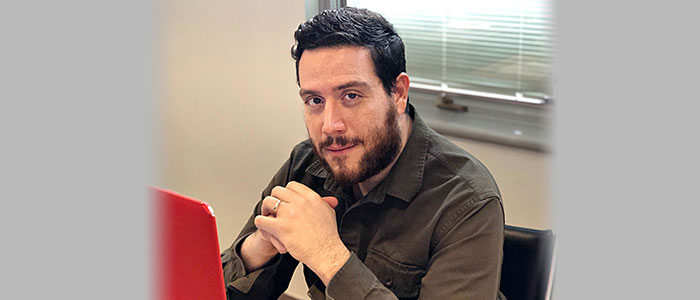 Posted by: admin on December 8, 2020, No Comments
It's been a wild ride that has taken writer Larry Santana '06 from daily journalism to television production and from the East Coast to the West Coast and back a couple of times. But now that he's settling into a prestigious film-writing training program, he couldn't be happier.
Santana is one of just four writers selected from 1,500 applicants for the Universal Studios Writing Program, designed to empower voices that usually go unheard.
"Historically, there's been a real dearth of opportunities for writers and directors of color, Hispanics like myself, women, the LGBTQ community, and a number of other underrepresented groups," Santana says. "This program is a major ally in helping to break down those barriers, so that more diverse stories are told and shared with a global audience."
It's a full-time paid work experience that gives Santana access to studio executives and producers as he gets a thorough education in the movie production process.
The program began this fall, but because of the COVID-19 pandemic, Santana is still on the East Coast, working from home in East Stroudsburg and meeting with program advisers via Zoom. He expects to head to California in January if the studio lot reopens then as planned.
"I'm learning so much every day … it's a sort of fast-tracked education," he said. "I'm also learning more about myself. Why I write the things I write, and why I write them in this particular style."
He is expected to write two brand-new scripts for the studio over the next year.
"Some days are purely writing days, where I'm locked away in my 'Batcave,' cooking up new ideas that I think an audience — including myself — will go crazy over."
His enthusiasm for writing stems from ESU, where English department professors shared what he calls "a genuine love of story."
"Professors like Fred Misurella, Alan Benn, Kathleen Duguay, Elizabeth Leigh Smith, Sandy Eckard, Victor Walker, Lawrence Squeri, Scott Landis and Charles Warner, just to name a few," he says. "These wonderful people helped me grow as a writer and storyteller."
He worked as a reporter at the Pocono Record in Stroudsburg while still earning his degree. After graduation in 2006, he headed west for the first time to pursue a master's in journalism at University of California, Berkeley, where he took a TV production class and fell in love with television.
In 2009 he earned a spot back east in the NBC News Associates Program, working at 30 Rockefeller Center in New York City. And although the plan was to rotate to different shows, he started at MSNBC and that's where he stayed, landing a full-time job after just three months, writing news copy, cutting sound bites, packaging graphics and video, and doing everything else a segment producer does.
"Writing for live television can be insanely stressful, but I developed a knack for it," he says, and he stayed at MSNBC until 2012, when a deep-seated urge got the best of him.
"There was this voice in the back of my head that kept getting louder and louder every time I walked into a movie theater. 'THIS is what you should be doing with your life. You have to at least give it a shot. Or you'll regret it forever.'"
So, shocking his friends and family, "I quit my job, I emptied my 401(k), and plotted my move to L.A."
Once out west again, he became a writer/researcher for a TV production company, working with the Discovery channel on true crime shows. That work started to dry up in 2017, plus "I was starting to get seriously burned out from interviewing convicted killers and sex offenders as a day job."
By then married with a toddler son, Santana saw that moving back east to live near supportive parents would be practical — the family's cost of living would be dramatically reduced as he took on new TV work that meant a lot of time on the road.
Relocating back to Pennsylvania also freed up time for Santana to write new screenplays and a novel, and work on some independent films.
"I adore California, but I promised myself I wouldn't go back until I was invited back," he said. Then came the opportunity with the Universal writing program, where his journalism experience helps.
"I think being beholden to actual facts about real people, and knowing the importance of accuracy and narrative truth for so long, gives my fiction a real sense of authenticity that people seem to respond to. I think that's part of the reason why I was chosen for the program."
The studio told him that when they read the script he submitted, they saw he had a distinct point-of-view as a storyteller.
"Right now, I'm hammering out the story 'beats' for my first script," Santana says. "I can't go into detail about what exactly I'm writing, but I can say that I'm getting guidance from a studio executive adviser and a producer adviser to develop two original ideas for Universal."
---
---