ESU Holds Annual Research, Scholarship, and Creative Activity Recognition Luncheon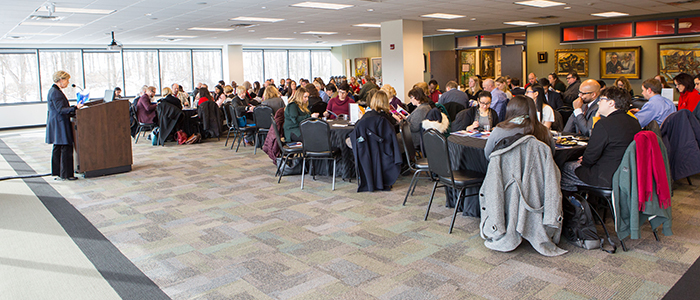 Posted by: admin on February 1, 2019, No Comments
ESU held its annual Research, Scholarship, and Creative Activity recognition luncheon on Friday, February 1, 2019. The program recognized external grant awards in the amount of more than $2.2 million dollars, and more than $60,000 in Faculty Development and Research (FDR) internal grants, during the 2017-18 academic year.
Also recognized were Summer Undergraduate Research Experience (S.U.R.E.) student researchers, graduate student research assistants, Honors Research Symposium participants, Student Research and Creative Activity Symposium participants, entrepreneurship and innovation initiatives, creative exhibit contributors, and members of the academic community who have recently published books.
The Office of Sponsored Projects and Research, within the Division of Academic Affairs, continues to support the advancement of the research and creative activity enterprise at ESU with a specific focus on the inclusion of undergraduate research in all disciplines.
---
---