ESU Honored Scholarship, Award Winners at 25th Annual Dr. Martin Luther King Celebration Event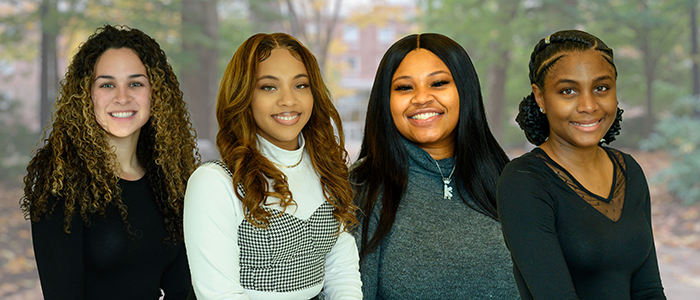 Posted by: Elizabeth Richardson on January 18, 2022, No Comments
East Stroudsburg University of Pennsylvania announced the winners of the 2022 Boddie Scholarships, Juliana V. Bolt Art Contest, and Martin Luther King Jr. awards. The recipients were recognized during the 25th annual virtual Dr. Martin Luther King Jr. Celebration on Monday, January 17.
Boddie Scholarship Recipients
The Mary Gertrude Smith Boddie Scholarship Fund provides financial assistance to undergraduate students of color at ESU. In 1904, Ms. Boddie was the first African-American student to graduate from what was then known as East Stroudsburg State Normal School, which ultimately became East Stroudsburg University in 1983. The students who apply for this scholarship are asked to describe, in essay form, their commitment to social justice through community and university involvement.
The Mary Gertrude Smith Boddie Scholarship recipients are: Carley Adams, a sophomore psychology major from North Wales, Pa.; Taylor Brielle Black, an undeclared sophomore from Abington, Pa.; Keichelle Lewis, a senior exercise science major from Philadelphia, Pa.; and Tammy McNeil, a senior psychology major from Easton, Pa. Each of the four students will receive a $3,460 scholarship award for the spring 2022 semester.
Adams, a student-athlete on the women's basketball team, attributes her passion for diversity, equity, and inclusion to her parents, an interracial couple who raised their children in a place where differences were beautiful. She chose to attend ESU because of the university's commitment to diversity and inclusion knowing it would be an extension of her family's values. In high school she attended a service trip to the Dominican Republic and says "it was one of the most meaningful experiences of my life." Adams says her goal during her time at ESU is to gather the necessary skills to find a career that will allow her to advocate for the underserved.
Black moved around a lot as a child, and her stability came from her mother who did whatever she had to do to provide for her children, even if that meant moving from the suburbs to the city. Upon reflecting on her childhood, Black says, "I had become adaptable, flexible, and resilient. I learned important lessons that I will benefit from in the future." Now at ESU, Black is determined to make the most of her college experience by participating in student organizations, attending events, volunteering, and keeping good grades.
Lewis, a first generation college student, has a passion for medicine and helping others which she attributes to her grandmother, a nursing aid. "I remember as a young child going to work with her and how compassionately she cared for her patients," Lewis recalled. She has attended the National Youth Leadership Forum on Medicine in Baltimore and works at Jefferson University Hospital in Philadelphia. At Jefferson she has worked in a variety departments and with several programs including the hospital call center, OBGYN, a mommy and me program that helps pregnant women with opioid addiction, and the exercise and sport medicine department.  At ESU, Lewis is the head resident for operations, treasurer for the Black Student Union, and the vice president of the National Council of Negro Women. Upon graduation this May, she hopes to continue her education to become a nurse practitioner.
McNeil began her college journey at ESU. She was a member of the University Honors Program and involved in several student organizations. But she missed her family. She returned to the Lehigh Valley and attended Northampton Community College where she became a member of Phi Theta Kappa Honor Society and was on the Dean's List. Her father passed away shortly after she returned home. He taught her about education, leadership, and as a federal police chief, about community service. His death, along with the work her mother does in the mental health field, inspired her career path. After completing her associate degree, McNeil came back to ESU to study psychology. McNeil is a member of the National Residence Hall Honorary, PerfectKnits club, the Women of Color Initiative, the Psychology Association, and Psi Chi Honor Society. She's a research intern at the Center for Multicultural Affairs and Inclusive Education, a peer tutor, and a large classroom assistant. Through her co-curricular activities, McNeil says "ESU grew my passion for working with young adults." McNeil plans to continue her education upon graduation this May. 
Martin Luther King Jr. Award Recipients
The Martin Luther King Jr. Award recipients exemplify characteristics of Dr. King's philosophy of non-violence, equality, justice, cultural diversity and respect for humanity. Awards were presented to an ESU student, faculty member, and a member of the local community.
Faith Dorsey, a senior majoring in English with a secondary education concentration from Easton, Pa., has been selected to receive the Martin Luther King Jr. Student Award. Jessica Santiago, Ph.D., assistant professor and director of the Warrior Success Advising and Retention programs, is the recipient of the 2022 Faculty/Staff Award, and Dr. Marilyn Brown, community outreach coordinator at the First Baptist Church of East Stroudsburg, is the recipient of the Community Award.
Dorsey is a leader who fights for social justice with her intellect and actions in a way that influences others with her respect for humanity and willingness to embrace a challenge. While writing lesson plans for her future English class, Dorsey encouraged her students to explore their identity while also integrating deep and difficult concepts for young people in the public education system. She wrote her lessons in a way to fully educate the students so they can be internally and externally emancipated while staying within the alignment to the structures of her discipline.
Dorsey is a member of the College of Education Dean's Advisory Council, a tutor in the ESU Writing Studio, a member of Kappa Delta Pi Honor Society, and a student representative on the Diversity and Inclusion Committee, and has served as a tutor for the Upward Bound program. She presented a paper, "Exploration of African American English," at the English Association of Pennsylvania State Universities Fall 2020 Conference, and her University Honors Program thesis is titled "The Newest Edition of Oppression: Examining the School-to-Prison Pipeline."
Dr. Santiago has committed herself to the support and advocacy of underrepresented students at ESU since 2010. She has served as a counselor in student support services, an academic success coach (assisting in coordinating the Early Start Summer Bridge Program), and advised exploratory studies students (conducting my success seminars, and supervised, trained and monitored all FYE mentors). She taught in the First Year Experience program and her current position includes identifying at risk students who face institutional and attitudinal barriers to success and assists with retention initiatives. Her dissertation title supports her passion and interest in serving these important students, "Latino Student in Higher Education: Correlations Between Campus Resources, Reliable Factors and Gender." She presents at national conferences on the topic of student success and student mentoring development.
One of her greatest impacts comes from her work with student peer mentors. She finds ESU students who themselves have a calling to be of help, who understand from personal experience the challenges of entering university-level education, but who have had success and can serve as role models to their younger peers. Dr. Santiago personally trains, develops, and closely supervises these mentors. As a result, they have turned out to be a tremendous resource for student success.
Dr. Brown is the community outreach coordinator at the First Baptist Church of East Stroudsburg, the CEO of Mrs. Dr. Marilyn M. Brown LLC, a consultation company that facilitates workshops and promotes spiritual, emotional, and academic education, and a community activist.
While living in Staten Island, New York she was a member of Community Board #1 as well as Youth Services Chair for eight years and she founded Girl Scout Troop #5363 – the first troop within Staten Island to have a woman of color as a troop leader. Brown was an active participant in establishing Eagle Academy School for Young Men of S.I., the only all male public school in District 31.
Having been raised in a single-parent household, Brown has a deep passion for children as well as single parents.
She has worked for the City of New York for the last 20 years; five as an NYPD police officer, and 15 as an appointed certified special education teacher. Currently she serves as the peer mediator facilitator/behavior specialist focusing on conflict resolutions. Brown's educational expertise is attributed to working in Title I schools, with students with disabilities, and facilitating workshops regarding courageous conversations. She initiated and facilitated multiple groups to address concerns from families and teachers for social and emotional support during COVID-19 remote learning.
Brown earned a bachelor's degree in child psychology from Medgar Evers College, a master's degrees in special education, childhood education, and second master's degree in school building and school leadership from Touro College, and a doctorate in special education with an emphasis on childhood and adolescent trauma and PTSD from North Central University. She counsels adults and children who have suffered traumas due to sexual, physical, and emotional abuse.
Juliana V. Bolt Art Contest
Entries for the Juliana V. Bolt Art Contest were received from 26 students representing Pocono Mountain High School East, Pocono Mountain High School West, and Stroudsburg High School. The first place award was given to Emma Strauch of Stroudsburg High School; second place was given to Emma Zauck of Stroudsburg High School; and Sampson Metzgar of Stroudsburg High School received third place. Orion Flelix of Pocono Mountain West High School and Abigale Bunje of Pocono Mountain East High School each received honorable mention.
To watch the 25th Annual Martin Luther King, Jr. Celebration, to see this year's Juliana V. Bolt Art Contest submissions, and to make a donation to the Boddie Scholarship visit esu.edu/mlk.
---
---