ESU Honors Representative Brown At 2013 Legislative Fellow Breakfast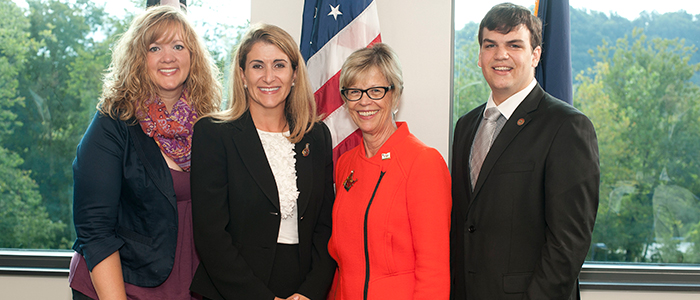 Posted by: admin on September 13, 2013, No Comments
A breakfast honoring East Stroudsburg University's 2013 Legislative Fellow, State Representative Rosemary M. Brown (R –189th District), took place on Friday, September 13, 2013 at the university's Innovation Center. University faculty, students, staff and special guests from the community were in attendance.
The Legislative Fellow Program, a joint effort between the ESU administration and the local chapter of the Association of Pennsylvania State College and University Faculties (APSCUF), was established in 1999 to invite a different Pennsylvania state legislator every year to participate in ESU campus and student life on a variety of levels.
Pictured from left are: APSCUF representative Andrea McClanahan, Ph.D., ESU professor and chair of communication studies; Representative Rosemary Brown; Marcia G. Welsh, Ph.D., President of ESU; and Justin Amann '15, ESU Student Senate President and history major.
---
---