ESU Honors Two Faculty as Distinguished Professors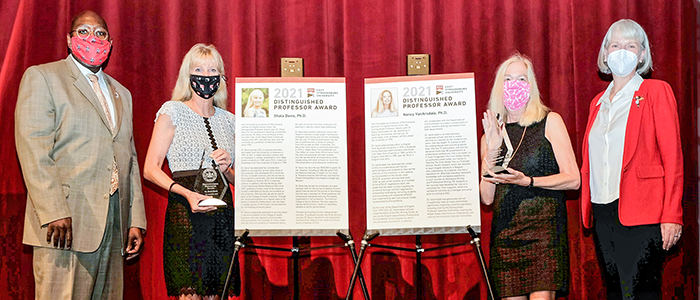 Posted by: Elizabeth Richardson on September 8, 2021, No Comments
East Stroudsburg University of Pennsylvania presented its annual Distinguished Professor Awards to Shala Davis, Ph.D., professor of exercise science, and Nancy VanArsdale, Ph.D., professor of English, at the first All-University meeting of the academic year, on Tuesday, September 7.
The Distinguished Professor Award – the highest honor for ESU faculty to receive – is presented based on outstanding contributions to the academic life of the University and its reputation. The award of Distinguished Professor is conferred upon an individual by the ESU Interim President, Kenneth Long, in recognition of exceptional achievements in teaching, research/scholarship/creative activities, and service.
Dr. Davis, a professor of exercise science at ESU, has been chair of the Department of Exercise Science since 2011, and she has been with the university as a professor of exercise science since 1996.
Davis earned a B.S. in physical education and health from the University of Delaware in 1987, an M.S. in health and sport science with an emphasis in cardiac rehabilitation from Wake Forest University in 1989, and a Ph.D. in exercise physiology from the University of Virginia in 1994.
Davis has dedicated her considerable talents to serving ESU across many areas of the university. She developed ESU's doctorate (D.H.Sc.) in health sciences, and she serves as the program's coordinator. She also developed ESU's Master of Science (M.S.) in exercise science. In addition, she has served as chair of the Institutional Review Board at ESU since 2001, guiding to fruition most of the research studies undertaken by faculty and students at the university. She has also served as interim dean of the College of Health Sciences. Through her active participation on a regular basis at all levels of university deliberations, she has been a reliable source of information and perspective for formulating university policy.
Davis is especially dedicated to serving needs of doctoral students in the College of Health Sciences, who she regularly communicates with and advises. For example, she meets with her doctoral students on weekends before the start of courses that other professors are teaching in case any issues need addressing.
Davis has a prolific publication record. Her research interests include weight maintenance strategies and training, and nutrition knowledge. She has over 70 referred publications that she has co-authored with a variety of scholars from ESU as well as other universities. The title of her most recent co-authored publication in 2019 is "Upper Body Training Methods and Their Effect on Lower Body Performance Tests." She also has published five book reviews, and she has delivered 45 presentations while collaborating with other scholars on more than 130 presentations at professional conferences.
Davis has secured over $500,000 in grants for her research, including an $84,000 grant from the National Institutes of Health, for her study to "Enhance Exercise Self-Efficacy and Improve Fitness Among Black and Hispanic College-age Women."
Davis has served her profession as a peer reviewer both for the journal of Medicine Science Sports Exercise and for the journal of Gerontology, and she was a reviewer for three guidelines and professional standards books by the leading organization in her profession, The American College of Sports Medicine. She also regularly advises NCAA Division I teams on educating athletes to eat for performance.
Through her teaching of nine undergraduate courses, 13 graduate courses, and three doctoral courses, Dr. Davis's dynamism and organization continue to be integral to the conferral of three levels of degrees
at ESU.
Dr. VanArsdale, a professor of English at ESU, joined the university in 1990.
She earned a B.A. in English from Bucknell University in 1979, a Graduate School Business Administration Certificate from New York University in 1983, an M.A. in English from NYU in 1981, and her Ph.D. in English from NYU.
VanArsdale has dedicated her career at ESU to collaborating with faculty, administrators and students to help set the direction of the university. In her capacity as the president of the faculty union APSCUF, a position she has held since 2000, as well as her position as a member of the APSCUF negotiations team, her leadership has been crucial in guiding the university through contract negotiations, scholarship fundraising, recruiting students, communicating with statewide APSCUF, and implementing new instructional modes necessitated by the pandemic.
As the chair of the Department of English from 1999-2014, VanArsdale oversaw implementation of the ESU Writing Studio, as well as the English department's Professional Writing Master of Arts degree, for which she developed coursework. In addition, she collaborated with the Department of Communication to create a concentration in public relations sharing coursework from both departments.
VanArsdale is an internationally recognized scholar and she is widely admired as a teacher by her students and peers. She has taught 15 courses at both the undergraduate level and the graduate level. She has 19 publications, and she has delivered more than 80 presentations at professional conferences. She is an expert on F. Scott Fitzgerald's The Great Gatsby, having co-authored a book called Approaches to Teaching The Great Gatsby. She is a Fulbright Scholar Award recipient, which she received to teach English literature in Belgium and Luxembourg. As a teacher, she has a reputation for effectively blending classroom knowledge with workplace experience in such courses as Workplace Writing, and Professional Writing: PR. Students in her courses have benefited her role as a consultant for Time magazine, which she worked for full-time as a manager and writer prior to coming to ESU.
Dr. VanArsdale has generously served in leadership roles on many committees significantly impacting university operations including chairing the Distinguished Professor Selection Committee, chairing the Middle States Task Force on Publications, and chairing the University Calendar Committee.
For more information about the Distinguished Professor Award, contact the APSCUF office at (570) 422-3278.
---
---