ESU Inclusion Poster Project Returns for Fourth Year with Outdoor Projection Display
Posted by: Elizabeth Richardson on December 10, 2021, No Comments
East Stroudsburg University's Inclusion Poster Project has returned this semester for a fourth iteration. This year, ESU graphic design students collaborated with students from the University of Sao Paulo in Brazil to design creative and expressive posters that reflect what inclusion and diversity means to them.
"Both universities have hosted similar projects and initiatives before," said Darlene Farris-Labar, professor and chair of art + design at ESU. "This collaboration was a perfect way to unite the powerful voices of our North and South American students."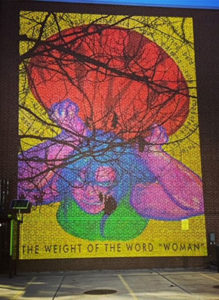 Students initially interacted through virtual meetings. Their first introduction to each other was to design a self-portrait using Adobe Illustrator and similar design techniques. The collaboration sparked a dialogue regarding the inclusive nature of language, a theme that proved to be especially significant given the language barrier between the English-speaking and Portuguese-speaking students. Other topics explored in their collaborative works include race, gender, and culture.
"The Inclusion Poster Project is a student communication, art and design exhibit that aims to foster dialogue about how our scholarly community can promote inclusion and diversity," said Farris-Labar. "This innovative project empowers students to model civil dialogue, spark courageous conversations, and create a campus without walls. It challenges students to work collaboratively to engage the cultural, social, and educational differences that make our communities exceptional. That is particularly true this year, as it was the first year we worked for students from another country."
All student posters will be on display in various forms and locations:
From December 10 – 17 the posters will be on display in the first-floor hallway of the ESU's Fine and Performing Arts Center, Normal and Marguerite streets.
On December 13 at 6 p.m., a virtual reception will be held to celebrate the student participants. The reception can be accessed at edu/inclusionposter.
On December 15 the posters will be shown on the Facilities Management Complex (number 16 on the campus map) using a three-story outdoor projector. The posters can also be viewed in a virtual gallery exhibition.
The Inclusion Poster Project is co-sponsored by East Stroudsburg University's Office of the Provost and the Diversity and Inclusion Committee.
To learn more about ESU's Inclusion Poster Project visit esu.edu/inclusionposter.
---
---