Inclusion Poster Project Returns for Third Year with Virtual, 3D Exhibit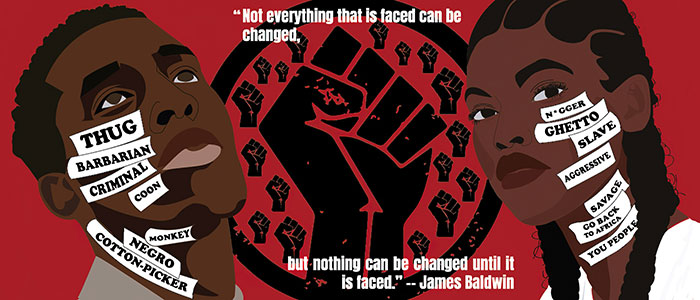 Posted by: Elizabeth Richardson on March 31, 2021, No Comments
The COVID-19 pandemic and primarily remote learning upset student life in 2020 as never before. But so did national unrest surrounding racial injustice, along with the resurgence of the Black Lives Matter movement.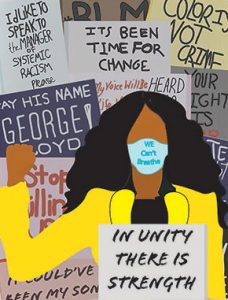 Both disruptions were the focus of the 2020 Inclusion Poster Project, a collaboration between philosophy and graphic design students at East Stroudsburg University, which is now in its third year. The goal of the project is for students from different disciplines to work together, coming up with a message and design that encourage ESU's commitment to create a welcoming environment for a diverse community.
"Students designed images and messages that reflected specific strategies of inclusion," says T Storm Heter, Ph.D., the philosophy professor whose Race, Gender and Culture class came up with concepts for the project this year.
"I feel that since we — students and professors alike — were all undergoing many of the same stressors together, and not being in the same physical location, this enabled us to have much more intimate conversations than in the past," says art + design professor David Mazure, whose Graphic Design students created the posters.
"Maybe that was just my own experience, maybe it was confirmation bias, but it definitely felt that way this year."
In past years, the Inclusion Posters were carefully placed in critical gathering spots around campus. But the events of 2020, in addition to focusing the themes of the designs, meant the project resulted in an online-only display for the first time.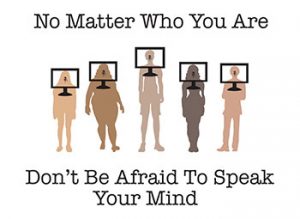 This year's inclusion posters — 19 in all — are mounted in a virtual exhibit through the Madelon Powers Gallery which allows visitors to navigate through and examine the art in a 3D experience that includes detailed looks and descriptions.
"Normally the project offers the campus community public viewing through large-scale posters," says Darlene Farris-Labar, director of the gallery and chair of the art + design department. "Because of COVID, we have turned to virtual viewing, discussion and engagement."
Many of the posters depict computer screens and the now-familiar look of an online meeting, and address the frustration, confusion, depression, sleeplessness and anxiety a "virtual" education can cause.
"If you look at the images, you'll see that there's a common theme: taking classes through Zoom is exhausting and lonely," Dr. Heter says. "Students shared concrete ways our faculty can be better at inclusion."
Other posters feature images from the Black Lives Matter protests and inequities experienced by people of different races, backgrounds and gender types.
Charlie Skeet, a junior art + design student, created a striking poster in collaboration with philosophy students Zebulon Kleintop and Desiree Felts. The piece features a quote from writer James Baldwin about facing the need for change and a collection of hateful words targeted at Black people.
"We all thought that the Black Lives Matter movement was something that should be brought to attention," Skeet says. "While the other designers chose to focus on a more positive message, I felt there were other things that needed to be addressed before coming to a peaceful conclusion."
"I'm a Black American, so waking up to see injustice day after day was not only alarming because I was scared for myself and my family, but it was heartbreaking to see all the innocent lives that were lost because of the police brutality, the treatment of Black LGBTQIA+ community, outright racism, and a number of other incidents."
"From microaggressions and slurs to stereotypes and prejudices, we face them all," Skeet says.
Demarese Burley, a senior counseling psychology major, worked on posters with two design students, Christian Borrero and Dominique Marrillo.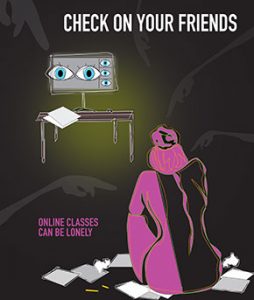 "I threw the idea out to my group that we should consider the mental health issues students are facing in the world of Zoom and COVID-19," says Burley, who is looking for a career as a high school guidance counselor.
Both of the posters she contributed to address challenges student face with the working world.
Borrero's poster depicts the stress facing students who work full-time jobs while pursuing a college degree, with the message "Work for eight hours/Study for eight more."
Marrillo's poster confronts the generational divide.
"Meaning, the older generations who have already established their careers telling younger generations everything will be OK, yet how can we be sure of that when we can't even get internships?," Burley says.
Joanne Bruno, J.D., ESU's provost and vice president for academic affairs, says the project is designed to use students' own experiences to stimulate discussion about social acceptance and challenges.
"Many of the posters deal with difficult issues, but they are educational in focus," Bruno says, noting how the project was an opportunity for students to exercise their freedom of speech while creating courageous and intelligent dialogue about diversity and inclusion on campus.
"The collaboration was excellent," Heter says. "The philosophers learned how to think visually and the design students benefited from the philosophers' work in feminist and critical race studies."
After an initial large group meeting online, the students were paired up. Philosophy students suggested a theme and their concerns about exclusion. The designers sketched ideas, both digitally and in traditional media, and they went back and forth until both students were satisfied with the final poster.
The project is a juried art show, and winners will be announced in March at a live online community forum, where the project will be presented and discussed.
"Students this year, more so than in the past few years, expressed how they felt they had a voice in this, and that people — especially those at ESU — are listening, and hopefully heeding them," Mazure says.
"The IPP is a completely unique project," Heter says. "It gives students a voice. The images are powerful, and they spark important conversations."
Community Conversation
The project is a juried art show, and winners will be announced Thursday, April 8 at 5 p.m. during a live online community forum, where the project will be presented and discussed. The community is encouraged to ask questions and share experiences and participate in a live vote for the People's Choice Award during the discussion. To access the gallery and open forum at no cost, visit esu.edu/inclusionposter.
---
---