ESU Junior Wins Council of Retail and Sales Outstanding Student Award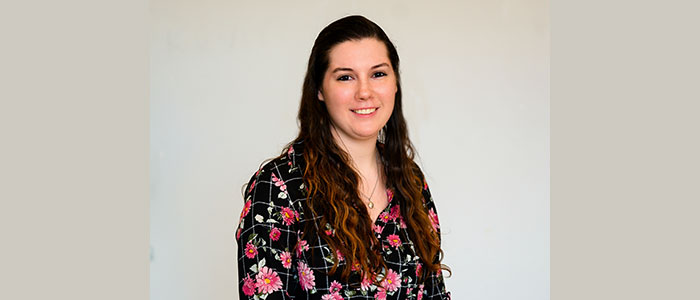 Posted by: Elizabeth Richardson on April 8, 2021, No Comments
East Stroudsburg University student Hayley A. Cosgrove a junior majoring in business management from Saylorsburg, Pa., won the "Outstanding Student Award" for the Council of Retail and Sales case contest at DeSales University. The contest was sponsored by Sherwin-Williams. Along with the first place trophy, Cosgrove received a $125 prize. To enter the contest, Cosgrove submitted an application, resume, one-page executive summary, and a short (three-to-five minute) video explaining her ideas about the future of retail.
Douglas C. Friedman, Ph.D., associate professor of business management, has always encouraged students to participate in competitions like this to showcase their talents to industry professionals. But, this year for the first time, he made the contest a required assignment for the students in his retail management class, making it five percent of their grade. "Hayley winning will certainly help motivate students in the future," he said. "I plan to continue making this contest a part of our curriculum and hope ESU students will continue to win."
Sylvester Williams, J.D., dean of the College of Business Management, has placed an emphasis on student involvement in contests hosted by local and national associations like the Council of Retail and Sales. "They give students an opportunity to showcase themselves and their knowledge. They are a great way to let people know how talented you are," he said. "These competitions help students show how prepared they are and they can potentially lead to job offers.
"I am very proud to know Hayley stood above the rest," Dr. Williams said. "She did an outstanding job throughout this competition, and represented ESU well."
"I used the materials I learned in class. My submission focused on the concept of automated retail. I asked the judges to imagine a world where retailing was 100% automated, which allowed me to describe the pros and cons of future retail in a more engaging way," Cosgrove said. "I think my entry stood out from the other contenders because I utilized a creative aspect in the beginning of the video I submitted. I think students should think outside of the box when participating in contests."
To learn more about business management at ESU and how to get involved in similar competitions contact Dean Williams at (570) 422-3589 or email swilliams@esu.edu.
---
---