ESU Kicks Off Holiday Season with Duke Ellington's Nutcracker Suite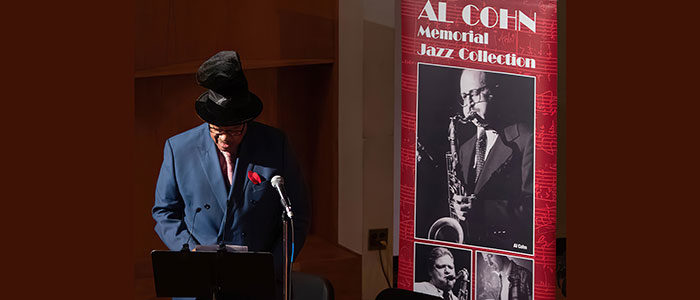 Posted by: Elizabeth Richardson on November 23, 2022, No Comments
East Stroudsburg University's Al Cohn Memorial Jazz Collection will once again present the Duke Ellington Nutcracker Suite. This will be the fourth year for the holiday concert at ESU, and first since 2019. In addition, this year will also mark the premiere performance of The Grinch Suite by Matt Vashlishan. The performance will take place on Saturday, December 10, 2022 at 6 p.m. in the Cecilia S. Cohen Recital Hall of the university's Fine & Performing Arts Center, Normal and Marguerite streets, East Stroudsburg.
The original music to the iconic Duke Ellington Nutcracker Suite and Vashlishan's new piece for large jazz ensemble will be performed by the Water Gap Jazz Orchestra under the direction of Vashlishan, who is also the coordinator of ESU's Al Cohn Memorial Jazz Collection. The 18-piece ensemble will be joined by local jazz vocalist Nancy Reed and Duke Ellington's grandson, Edward Ellington II, as guest narrators telling the story of the Nutcracker, as well as special guest Seneca Black on lead trumpet.
Tchaikovsky's Nutcracker has become one of the most recognized holiday performances since its debut performance in 1892. In 1960, Duke Ellington and Billy Strayhorn arranged their own jazz version of the suite for Columbia Records. The music is instantly recognizable with a fresh, "hip" twist, and has become very popular among jazz musicians, jazz listeners and general audiences.
After testing the waters with "You're A Mean One, Mr. Grinch" at the 2019 Nutcracker performance, Vashlishan has spent the past three years working and re-working this 30-minute suite that represents his take on a pop culture classic, much like Ellington and Strayhorn did so many years ago with the Nutcracker.
"Duke Ellington's Nutcracker Suite is becoming an ESU holiday tradition. We are very excited to have it back on campus this year, kicking off the holiday season, along with the Water Gap Jazz Orchestra, Nancy Reed and Edward Ellington II," Vashlishan said. "The band is made up of 18 absolutely world-class musicians who are all at the top of their field. This year is also very special, as we are fortunate to have another guest, Seneca Black, on lead trumpet, who grew up in the Poconos and went on to play lead trumpet with Wynton Marsalis and the Lincoln Center Jazz Orchestra when he was only 19 years old! He is among a small group of the very best in the world to perform this music and we are extremely excited to present this to the community."
Duke Ellington's Nutcracker Suite is open to the public. General admission tickets are $20; students and children are $10.
Tickets are available directly by visiting www.esufoundation.org/nutcracker2022, or by calling the special events coordinator at (570) 422-3156. Tickets will also be available at the door, but advance purchase is strongly encouraged and will receive priority. For more information about the Al Cohn Memorial Jazz Collection visit www.esu.edu/jazzatesu or email alcohncollection@esu.edu.
---
---