ESU Madelon Powers Gallery to Present Student Exhibit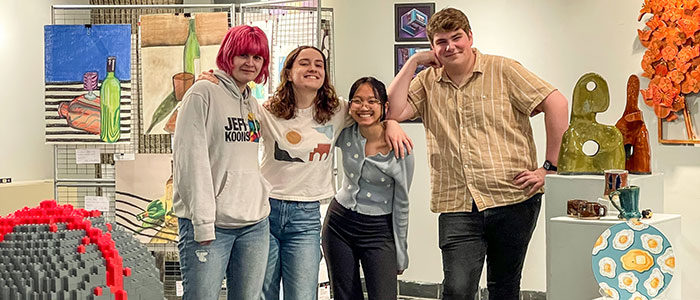 Posted by: Elizabeth Richardson on March 29, 2022, No Comments
East Stroudsburg University's Madelon Powers Gallery will feature art works from the Student Art Association March 30 – April 13. The exhibition will include a range of media including digital illustrations, graphic design, product design, 3D modeling, traditional drawing and painting, and sculpture.
Hours for the gallery, located in the university's Fine and Performing Arts Center, Normal and Marguerite streets, are Monday through Friday from 11 a.m. to 4 p.m.
A reception for the artists will be held on Wednesday, March 30 from 4-6 p.m. in the gallery. The gallery and the reception are open to the public at no cost.
At the reception, prizes will be awarded in three categories: graphic design and digital illustration, product design and 3D design, and traditional art and sculptures.
For more information on the exhibit or reception, contact the Fine and Performing Arts Center at kdevine5@esu.edu or call (570) 422-3694.
---
---