ESU Medical Technology Students' Internships Jumpstart Careers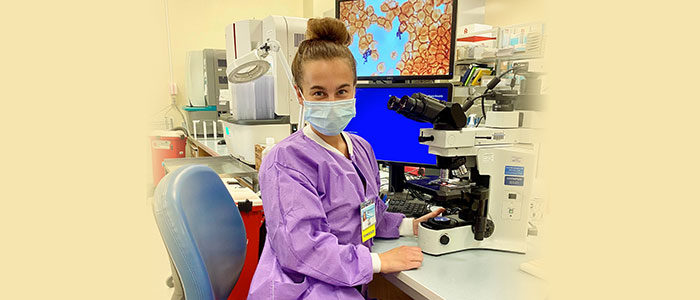 Posted by: Elizabeth Richardson on June 21, 2022, No Comments
When Emily Sobelman came to East Stroudsburg University she knew she wanted to earn a degree that would allow her to work in the healthcare field. "I didn't want to do bedside care, but I wanted to work in medicine," the Pennsville, N.J. native said. That's when she discovered the Medical Technology program.
ESU's Medical Technology major is designed to provide students with preparation in fundamental and clinical laboratory sciences for careers in diagnostic clinical laboratories where they will test and analyze blood, other body fluids, and tissue samples that help doctors diagnose patients.
Dr. Abdalla Aldras, director of ESU's program, explains that "Students in this program complete their work at ESU in three years. Then they must complete a one-year internship in an approved hospital clinical program." For Sobelman it was that year-long internship that changed everything.
She applied and was accepted into a program of only eight at Milton S. Hershey Medical Center. "This is one of the biggest internship programs on the east coast," Sobelman said.
During the first six months of the internship, Sobelman and her peers spent their mornings in lectures and shadowed technologists in the clinical lab in the afternoon. "We had one or two exams a week, and we finished a textbook each month. It was intense." The second six months were comprised of mini-rotations where she gained hands on experience in multiple specialties.  During this time she found her niche in microbiology.
According to Dr. Aldras, ESU has a 100% graduation rate for students studying medical technology, 100% job placement rate, and 100% pass rate for the national certification exam. Sobelman, of course, was no exception. "I passed the boards on my first attempt and recieved  before I graduated," she said. Sobelman accepted a full-time position as a medical laboratory scientist specializing in microbiology at the Milton S. Hershey Medical Center.
"I couldn't be more thankful for the program and how ESU helped me with the classes to get here."
Sobelman thinks medical technology is the most underrated job in the health care field. "The lab is a huge part of patient care. We help doctors with diagnosing patients and our work helps determine their care."
Three additional students in ESU's medical technology program completed internships and graduated in 2022. They've all accepted job offers. They are Jacob Wampole, of New Tripoli, Pa.; Stephanie Lo Presti of Saylorsburg, Pa.; and Ndukauba Nwosu of East Stroudsburg, Pa.
---
---