ESU Names Jack Rader Jr. Legislative Fellow for 2017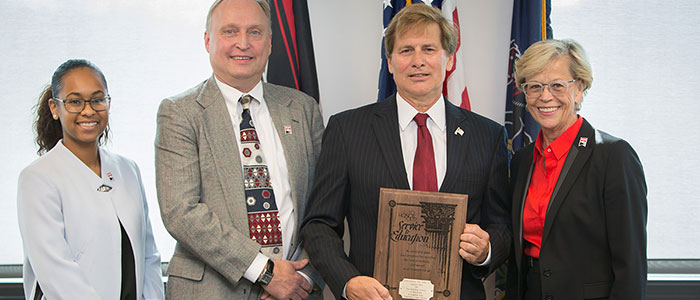 Posted by: Elizabeth Richardson on September 15, 2017, No Comments
East Stroudsburg University of Pennsylvania announced the selection of its 2017 Legislative Fellow, State Representative Jack Rader Jr., at a breakfast held in his honor on Friday, September 15. ESU President Marcia G. Welsh, Ph.D., introduced Representative Rader at the event to university faculty, students, staff and special guests from the community.
The Legislative Fellow program, established in 1999, is designed to bring state legislators to campus to participate in a variety of campus activities and to meet formally and informally with students, faculty and staff throughout the year. As part of the program, ESU Legislative Fellows may also request a student intern.
The program is co-sponsored by the university administration and the local chapter of the Association of Pennsylvania State College and University Faculties (APSCUF). Fellows are selected by a committee of faculty and administrators, and jointly appointed by the university president and the president of APSCUF at the beginning of each academic year.
Representative Rader was elected to represent the 176th Legislative District in 2014. He serves as the chairman of the Subcommittee on Townships within the Local Government Committee. He also serves on the Children and Youth, Labor and Industry, and Tourism committees.
Rader is a graduate of Pocono Mountain High School and earned a bachelor's degree in business administration from Susquehanna University. Prior to serving in the legislature, Rader served on the Jackson Township Board of Supervisors for 28 years, including 20 as chairman. As a township supervisor, he also served as chairman of the Pocono-Jackson Water Authority, vice president of the Monroe County Council of Government, chairman of the Hamilton/Jackson/Pocono Park and Open Space Commission, and vice chairman of the Chestnuthill/Jackson/Eldred/Ross/Polk Regional Planning Board. Rader is also a past president of the Monroe County Township Officials' Board.
In addition to his extensive public service, Rader has a well-respected business background. For the past three decades he has served as manager and vice president of Mountain Springs Resort, located in Reeders. The company has been owned by Rader's family for more than a half century.
Representative Rader resides in Reeders, Pa. with his wife, Susan. He is the proud parent of four children and three grandchildren.
For more information on the Legislative Fellow program, contact Miguel Barbosa, chief of staff in ESU's Office of the President at 570-422-3545.
---
---