ESU Names John P. Blake Legislative Fellow for 2015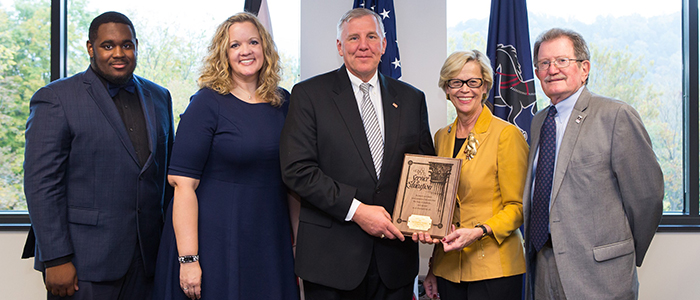 Posted by: admin on October 9, 2015, No Comments
East Stroudsburg University of Pennsylvania announced the selection of its 2015 Legislative Fellow, State Senator John P. Blake, at a breakfast held in his honor on Friday, October 9. ESU President Marcia G. Welsh, Ph.D., introduced Senator Blake at the event to university faculty, students, staff and special guests from the community.
The Legislative Fellow program, established in 1999, is designed to bring state legislators to campus to participate in a variety of campus activities and to meet formally and informally with students, faculty and staff throughout the year. As part of the program, ESU Legislative Fellows may also request a student intern.
The program is co-sponsored by the university administration and the local chapter of the Association of Pennsylvania State College and University Faculties (APSCUF). Fellows are selected by a committee of faculty and administrators, and jointly appointed by the university president and the president of APSCUF at the beginning of each academic year.
Senator Blake is in his fifth year in the Pennsylvania State Senate. He represents the Senate on the finance committee, where he serves as the democratic chair. He has also served on a number of other committees, including Appropriations, Community, Economic & Recreational Development, Environmental Resources & Energy, Local Government and Urban Affairs & Housing.
Senator Blake earned his bachelor's degree in government from Villanova University in 1983. Four years later he earned a master's in social work from Marywood University, and in 2001 he graduated with an M.B.A. in finance from the University of Scranton. Throughout his career, he has served his community in many capacities, including as executive director for the Lackawanna County Redevelopment Authority, and as executive deputy and acting secretary of the Pennsylvania Department of Community and Economic Development (DCED). His interest in education led him to spend some time as an adjunct faculty member in economics at the University of Scranton's School of Management. Early in his career, he was the vice president of PNC Bank. Currently, Senator Blake resides in Scranton, Pa. with his wife, Louise, and his two children Vince and Katie.
For more information on the Legislative Fellow program, contact Miguel Barbosa, chief of staff in ESU's Office of the President at 570-422-3545.
---
---