ESU Names Kyle Mullins Legislative Fellow for 2022-2023 Academic Year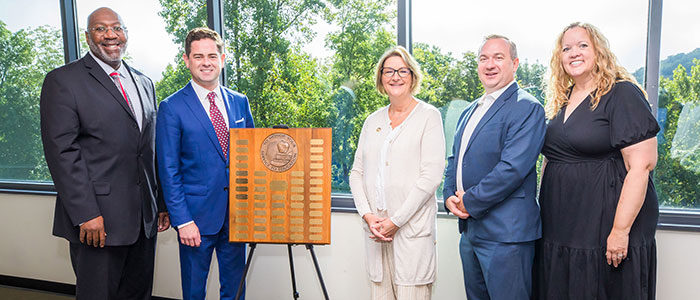 Posted by: Elizabeth Richardson on September 9, 2022, No Comments
East Stroudsburg University of Pennsylvania announced the selection of its 2022-2023 Legislative Fellow, State Representative Kyle Mullins, at a breakfast held in his honor on Friday, September 9. ESU Interim President Kenneth Long introduced Representative Mullins at the event to university faculty, students, staff and special guests from the community.
The Legislative Fellow program, established in 1999, is designed to bring state legislators to campus to participate in a variety of campus activities and to meet formally and informally with students, faculty and staff throughout the year. As part of the program, ESU Legislative Fellows may also request a student intern.
The program is co-sponsored by the university administration and the local chapter of the Association of Pennsylvania State College and University Faculties (APSCUF). Fellows are selected by a committee of faculty and administrators, and jointly appointed by the university president and the president of APSCUF at the beginning of each academic year.
Representative Mullins was elected to represent the 112th Legislative District in 2018. He is a member of the Appropriations, Consumer Affairs, Policy, Professional Licensure, and Transportation Committees. He is also a member of the Autism and Intellectual Disabilities, LGBTQ Equality, PA SAFE, and Women's Health caucuses.
Representative Mullins' legislative priorities are rooted in three critical issue areas: strengthening communities, protecting hard-working families, and reforming state government. Mullins believes that creating a climate for good jobs and opportunities means strong communities. These opportunities must be available at family-sustaining wages so that young people can stay and build families in Northeast Pennsylvania. He also has a proven record of fighting for more state funding in critical areas – from our children's education and safety, to care services for our seniors and those with disabilities or illness. He believes that taxpayers deserve relief, and responsible and compassionate fiscal policy at the state level is a major component of that objective.
At the center of Mullins' decision to run for public office was a guiding principle that government should be in the business of enriching and supporting its citizens, not its politicians. He believes it is time to enact real reforms that put communities' best interests first.
Raised in Peckville – a town just north of Scranton in Northeastern Pennsylvania – Mullins is a 2003 graduate of Valley View High School and a 2007 graduate of West Chester University, where he earned a Bachelor of Science degree in political science. Mullins served as student body president of both his high school and college classes.
Mullins and his wife, Lauren [Cobb], reside in their hometown of Peckville where they are raising their son, Connor; daughter, Caroline; and chocolate lab, Jagger. Mullins is the son of Michael and Christina [Flannery] Mullins, also residents of Peckville.
For more information on the Legislative Fellow program, contact Miguel Barbosa, chief of staff and government relations in ESU's Office of the President at (570) 422-3545.
---
---