ESU Names Representative Samuelson Legislative Fellow for 2014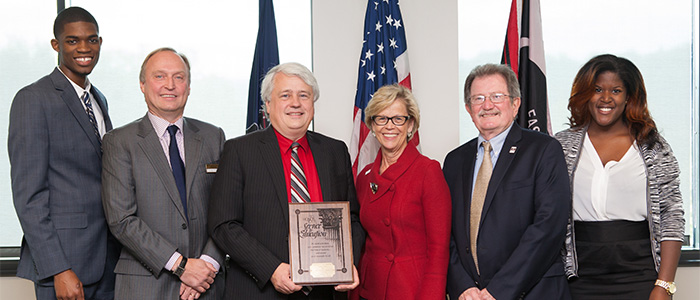 Posted by: admin on September 19, 2014, No Comments
The East Stroudsburg University community named State Representative Steve Samuelson as the institution's new Legislative Fellow for 2014. Student Senate President Drew Johnson, a sophomore communication studies and political science major at ESU, APSCUF Legislative Chair and ESU Associate Professor and Chair of Early Childhood and Elementary Education Andrew Whitehead, Ph.D., ESU President Marcia G. Welsh, Ph.D., Council of Trustees Chair Pat Ross, and Student Senate Vice President Efia King, a senior communication studies major, joined the ESU community in the welcoming of the State Representative at a ceremony this morning.
ESU's Legislative Fellow program was introduced in January 1999 to bring state legislators to campus to participate in campus activities and meet formally and informally with students, faculty, and staff throughout the year.
The fellows are selected based on their records of achievement and service in their community and to the Commonwealth. Representative Samuelson has been a member of the Pennsylvania State House of Representatives since 1998. 
---
---