ESU, NCC Partnership Set Career Path for Student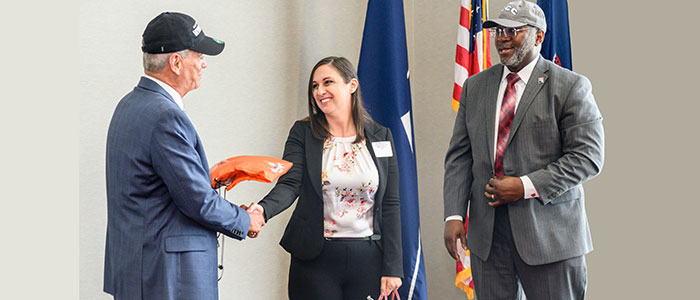 Posted by: Elizabeth Richardson on August 12, 2021, No Comments
East Stroudsburg University (ESU) interim president Kenneth Long and Northampton Community College (NCC) president Dr. Mark Erickson recently announced an exciting transfer partnership between the two institutions. NCC-ESU Pathways to Success: Stronger Together will facilitate enhanced and seamless access for NCC students to apply to ESU's upper-division undergraduate and graduate programs through 2+2+1 pathways.
"For many years, ESU and NCC have worked together to provide our region with high quality, affordable public education," President Long said. "With this partnership, we are taking these efforts even further by not only enhancing the pathway for students to seamlessly transition between our institutions, but to also provide the financial support that is necessary to ensure that students are able to achieve their educational goals in a timely fashion." He added, "East Stroudsburg and Northampton share a common belief that higher education should not only be accessible, but also affordable. This premier partnership provides just that—accessibility and affordability."
ESU Provost Joanne Z. Bruno, J.D. said the partnership provides NCC students with the resources they need to transfer to ESU easily and graduate on time. "Many students take a significant amount of time to complete a 4-year degree and in the process, incur an increased amount of debt. We want to blur the lines between NCC and ESU courses, so students have this pathway of ensuring success. We have worked in a transfer scholarship, as well as an incentive to NCC employees if they want to continue their education at a 4-year school. We've given them an institutional discount to come to ESU.  We really want NCC students to know they will be ESU students. In the near future, we will have NCC courses taught on ESU's campus and ESU courses taught on NCC's campus," she said. "The whole package is having an alignment of majors—the goal of transferring is to have NCC students come to ESU as juniors, complete another 60 credits at ESU, and get their degree as a junior or senior. This was really an academic village effort." To make the transition even easier, for NCC students who transfer to ESU without the degree but are close to completing their NCC degree, Bruno said ESU will do a "reverse transfer," working with the student to make sure their credits from ESU transfer back to NCC to satisfy the award of an associate degree.
ESU has long been a top transfer destination for NCC students, with more than 300 graduates enrolling at ESU each year. Elizabeth Reeves is just one student who can speak to the strength of the schools' partnership. Reeves graduated with honors from NCC in 2017 and ESU in 2019. While attending school, Reeves raised two daughters as a single mother and tutored students at NCC's learning center. "I tried to go back to school several times throughout my life," Reeves said. "My goal was to go to NCC—I thought, if I don't go any further, at least I'll have my associate degree. My goal was a bachelor's." Reeves' hard work and commitment to her studies was obvious. Christine Armstrong, professor of communications at NCC, referred Reeves for a tutoring position in NCC's Learning Center. "It just seemed like the natural next step," Reeves said. When it was time to transfer to ESU, Reeves said she was a bit nervous. "How would I measure up against the students who were already there? NCC really did prepare me. They have writing-intensive courses, and it did help. I would get a little overwhelmed with some of the big assignments [at ESU], but my grades always reflected good work. When I first started at NCC and got to know some of the other students, I heard 'not everything is going to transfer.' That didn't happen for me—everything counted. I would imagine it's really frustrating to have to take some of the same classes because some class didn't count."
Because of her busy schedule, she took classes at both NCC and ESU year-round—opting to take one or two classes per semester rather than a full load of five classes in a single semester. Since graduating from ESU with her bachelor's in communication, Reeves has not looked back. She continued on to the master's program at ESU, where she expects to graduate this summer. "My plan wasn't always the master's. I just let the world open up, and that's where it led," Reeves said. She also works as a part-time public relations coordinator at Strong Mountain Media, a public relations and digital marketing agency founded by ESU alum Laurie Monteforte. As if Reeves' schedule was not busy enough, she is also scheduled to teach at NCC this fall. Reeves said her experiences at both NCC and ESU were nothing but positive. "I found everybody to be really supportive. Working in the learning center, it was my supervisor there who recommended me to teach a class. Then going on to ESU—those recommendations are what got me the job in the PR firm. I can't say enough about how supportive the professors were. They were very understanding, but still had high expectations."
Dr. Armstrong is not surprised Reeves has done so well at both schools. "The thing that made Elizabeth memorable is the thing that makes a lot of students really successful. Elizabeth wasn't just working for the grade or to get the class done. She really wanted to gain the knowledge. She would do the reading ahead of time, would come to my office hours and ask lots of questions, and would discuss the material to make sure she understood how the material was working." Armstrong also has high hopes for the NCC/ESU partnership. "There are a lot of students who transfer from Northampton to ESU. For most of our students, it's the best fit and value. Previously, there may have been little hiccups with credits transferring. This agreement smooths over those pieces and students don't have to worry about those hiccups."
The ESU/NCC Stronger Together partnership officially takes effect in fall 2021.
---
---