ESU Offers 13 Certificate Programs in a Variety of Fields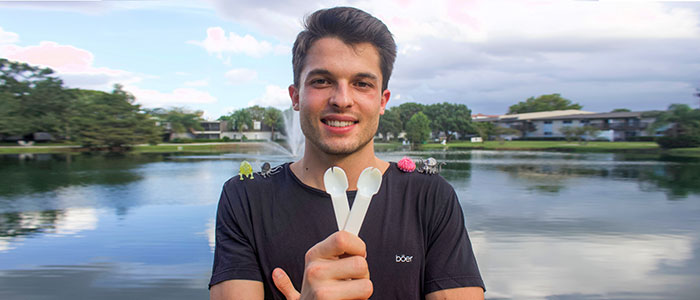 Posted by: Elizabeth Richardson on September 17, 2020, No Comments
As the job market continues to change, especially as businesses and industry cope with the COVID pandemic, East Stroudsburg University reminds the community-at-large of its 13 certificate programs that are designed to increase or update one's knowledge in a variety of fields.
"A certificate is a great way to start or continue your education and bolster your resume," says Joanne Z. Bruno, J.D. provost and vice president for academic affairs. "Each certificate program at ESU is personally developed by faculty with expertise in a wide range of topics. Whether someone is hoping to upskill in their current career, start a new career, or simply further their education, a certificate can be the best way to achieve their goal."
For recent ESU graduates Sergio Bortolon and Joseph Grelecki, a certificate was a way to expand their knowledge. Bortolon, a May 2020 graduate, majored in business management with a concentration in marketing. During his studies he wanted to chase another interest, but didn't want to change his major. "I've always had a passion for art and technology," Bortolon said. "ESU's 3D printing & product design certificate was the perfect blend of those two things. I knew pursuing this certificate along with my bachelor's degree would expand my career possibilities."
The certificate program did, indeed, open doors for Bortolon. During an internship with TickCheck, a university-affiliated lab based in East Stroudsburg, dedicated to providing fast, high-quality tick testing, he designed a tick removal spoon that was manufactured to aid in tick removal. He and the TickCheck team are hoping that the tool will be on the market soon. The internship not only grew Bortolon's 3D printing and product design portfolio, but also enabled him to take part in the company's market research, which was beneficial to the work he was doing in his business classes. "In addition to tackling new skills associated with design, the internship allowed me to understand the growing 3D printing industry as a business."
Grelecki graduated in 2018 with a bachelor's degree in social work. He knew he wanted a career in the clinical setting so he explored the option of minoring in psychology. However, he found the crisis intervention certificate was a much better fit for him. "This certificate program offered exactly what I needed and wanted," Grelecki said. "The professors were amazing and the real life examples that were taught as part of the coursework for the certificate prepared me for my internship with Sailsbury Behavior Health." In fact, Sailsbury Behavior Health was so impressed with his knowledge during his internship he was hired full time upon graduating. "A certificate program is a great opportunity for someone who doesn't want to, or can't, commit to a double major, a minor, or even a degree program. The classes you take to complete the program will give you a huge leg up in your career," Grelecki said.
"Whether you're a current student and want to pursue multiple interests, or you're simply looking to expand your knowledge without the commitment of a degree, a certificate program at ESU could be a great fit," Provost Bruno said.
ESU currently offers certificate programs in 3D printing and product design, business writing, crisis intervention, data visualization, drug abuse prevention, environmental health, geographic information systems (GIS), global health, health emergency preparedness, health project management, medical marijuana and public health, nutrition, and sport performance coaching.
For more information about ESU certificate programs visit esu.edu/certificates. To learn more about applying to ESU or plan a visit to campus, contact the Office of Admissions by calling 570-422-3542 or visit esu.edu/admissions.
---
---