ESU Panhellenic Council Raises Funds for "Project Turkey" Assists Salvation Army with Food Distribution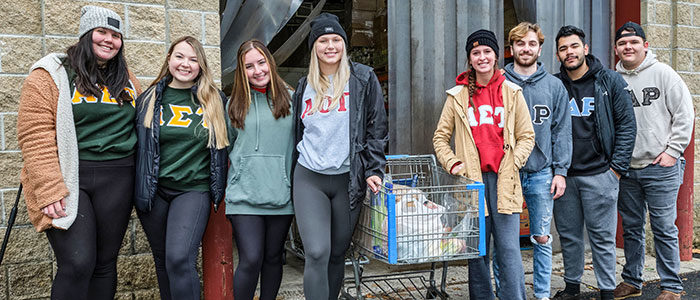 Posted by: Elizabeth Richardson on November 23, 2021, No Comments
The East Stroudsburg University Panhellenic Council held its annual Project Turkey fundraiser. The event raises money to assist families who are experiencing food insecurity during the holiday season. With the help of the Salvation Army and ESU Greek life, at total of $2,476.62 was raised. ESU students raised $771.62 of that money by collecting donation during home football games this year.
Approximately 40 volunteers from ESU Greek Life helped in preparing grocery bags and distributing grocery donations. Distribution Day was Monday, November 22 in a drive-through fashion at The Salvation Army's office in East Stroudsburg.
Pictured left to right: Hayley Soley (Alpha Sigma Tau), Miranda Blough (Alpha Sigma Tau), Kaylin Cuba (Alpha Sigma Tau), Maddie Comp (Alpha Omicron Pi), Peyton Falkenstein (Alpha Sigma Taulpha), Brian Kagel (Kappa Delta Rho), Joe Pokrywka (Kappa Delta Rho), and Garrett Bahr (Kappa Delta Rho).
---
---