ESU Partners with Advenser Technology Services, Inc. to offer Joint Certificate in BIM Training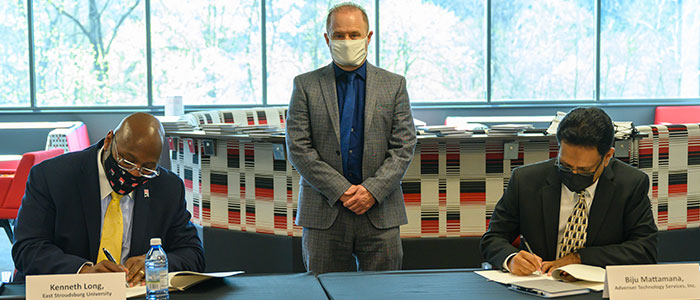 Posted by: Elizabeth Richardson on April 23, 2021, No Comments
Photo: Pictured left to right: Kenneth Long, interim president, East Stroudsburg University, David Briel, deputy secretary, PA DCED Office of International Business Development, and Biju Mattamana, president, Advenser
A Certification Program in Building Information Modeling (BIM) will now be available at East Stroudsburg University (ESU) through a partnership between ESU and Advenser Technology Services, Inc. (Advenser). The BIM process provides a data-rich, intelligent, 3D representation of a project and is widely utilized in the architecture, engineering, design and construction (AEC) industries.
ESU and Advenser held an official signing of the Memorandum of Agreement (MOA) establishing the partnership on Thursday, April 22 in the ESU Innovation Center.
ESU was introduced to Advenser through the PA Department of Community and Economic Development International Business Development Office. Advenser (www.advenser.com) a company with offices in PA USA, Victoria Australia, Dubai UAE and engineering excellence center located in the city of Cochin, State of Kerala, India, possess a strong knowledge base in BIM through more than a decade's of their project experience. Having 250+ Engineers serving more than 100 Clients across the USA, and clients across the globe Advenser will develop a BIM Training lab in the ESU Innovation Center with 20 terminals for training, and with the support of their Subject Matter Experts (SME) through a 'train the ESU trainers' program.
Training is anticipated to start in summer 2021 with
ATST 01: BIM for Beginners and will expand its offerings to include:

ATST 02: BIM Proficiency Training

Add-on ATST 02A: BIM for Civil & Environmental Engineering
Add-on ATST 02B: BIM for Structural Engineering
Add-on ATST 02C: BIM for Precast Engineering
Add-on ATST 02D: BIM for Façade Engineering
Add-on ATST 02E: BIM for Steel Detailing

ATST 03: BIM for Building Utility Services
ATST 04: BIM Manager Training
ATST 05: Scanning and BIM Conversion
David Briel, Deputy Secretary, PA DCED Office of International Business Development, commented, "ESU's agreement with Advenser will allow students the ability to certify in BIM and add to their marketable skills. I am very proud that the DCED international network-especially the PA office in India-has been able to work with Advenser and ESU to bring this unique educational opportunity to a Pennsylvania university."
Individuals trained in the BIM process will be qualified for various BIM job opportunities including: BIM Technician, BIM Manager, BIM Designer, Revit BIM Modeller (Structural, Architectural, Electrical), etc.
Kenneth Long, Interim President of ESU, said, "The development of the BIM Training Lab at ESU supports our initiative to incorporate real world technology, resources and certifications into our classrooms to meet student interests and industry demands."
"Advenser is proud to be a training partner with ESU, this program will definitely help fresh talents to get attracted in BIM industry, make sure on-the-job training for career advancement much easier, and address trained resource scarcity for employers" said, Biju Mattamana, President of Advenser. "We look forward to expanding the BIM trainings and providing a talented workforce with international credentials in the fields of architecture, engineering, design and construction industries"
As part of this partnership, ESU has identified faculty members who will be trained in BIM and who will provide the BIM for Beginners training. Jo Bruno, Provost and Vice President for Academic Affairs at ESU, noted, "The ESU and Advenser partnership provides exciting BIM opportunities for faculty, students and for our industry partners."
For additional information about the BIM Lab and MOA signing at ESU, contact ESU Economic Development and Entrepreneurship at (570) 422-7966 or email mpostupack@esu.edu.
---
---