ESU Professor Receives Grant for Research on Fireside Poets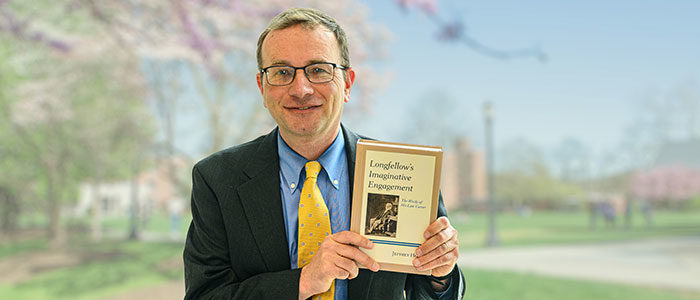 Posted by: Elizabeth Richardson on July 8, 2022, No Comments
Jeffrey Hotz, Ph.D., associate professor and chair of East Stroudsburg University's English department, has been awarded a $6,028 grant from the Pennsylvania State System of Higher Education's Faculty Professional Development Council (FPDC) to conduct archival research on the American Fireside Poets. Dr. Hotz's research project, titled "The Fireside Poets' Late-Career Masterpieces: A Study of an Era's End," considers notable late-career books by William Cullen Bryant (1794-1878), Henry Wadsworth Longfellow (1807-1882), Oliver Wendell Holmes, Sr. (1809-1894), and James Russell Lowell (1819-1892). The grant will support several research trips to Harvard University's Houghton Library, the New York Public Library, and the Friends Historical Library at Swarthmore College to examine these poets' private papers, manuscripts, book contracts, and associated primary resources.
"The Fireside Poets were extremely popular in the 1800s, and their poems were taught in school, discussed in public, and memorized by readers of all ages across the country. However, scholarly interest in these writers declined in the decades after their deaths," Hotz said. "My intent for this project is to restore attention to these writers through an eventual academic book publication." Hotz's research will focus on five little-studied late-career masterpieces written by the Fireside Poets during their old age at the peak of their fame: Bryant's Thirty Poems (1864), Longfellow's Ultima Thule (1880), Holmes's Before the Curfew (1883), Lowell's Heartsease and Rue (1888), and Whittier's At Sundown (1892).
While pursuing grant-supported archival research this summer, Hotz will also give a presentation on Henry Wadsworth Longfellow's late-career poetry at the Longfellow House-Washington's Headquarters National Historic Site, on Thursday, July 28, from 6-7 p.m. The talk will take place on the grounds of Longfellow's home at 105 Brattle Street in Cambridge, Mass., a museum and research center operated by the National Park Service. The presentation is accessible virtually through a YouTube Livestream. Details and registration information for the Livestream presentation are available at nps.gov/long/planyourvisit/calendar.
The PASSHE Faculty Professional Development Council (FPDC) grant is a competitive Pennsylvania State System of Higher Education grant opportunity to support faculty research within the state system. The grant is part of the state system's Annual Grants Program. Hotz was encouraged by ESU's Office of Sponsored Projects and Research (OSPR) and ESU's Faculty Development Research Committee (FDRC) and credits both for the successful application.
---
---