The Circle by David Eggers Selected for Fourth Annual One Book, One Campus Program; Invites Community to Read with Us!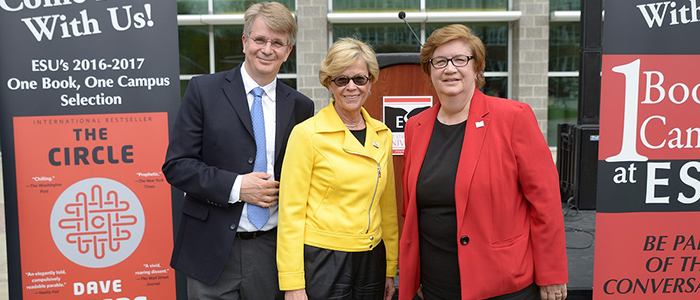 Posted by: admin on April 28, 2016, No Comments
ESU President Marcia G. Welsh, Ph.D., announced today that 'The Circle' by David Eggers is the university's selection for its One Book, One Campus program. In her remarks, Dr. Welsh, encouraged individuals and book club participants within the regional community to purchase a copy of the novel and to participate in planned book discussions with faculty, students and staff on campus and around town this fall.
'The Circle' is an engaging read about a fictional future and the power of social media. The book, chosen by a committee of students, faculty and staff, is timely, relatable and offers a unique perspective about the power of technology. What begins as the captivating story of one woman's ambition and idealism soon becomes a heart-racing novel of suspense, raising questions about memory, history, privacy, democracy, and the limits of human knowledge.
In the photograph, from left, are Peter Prium, Ph.D., professor of philosophy and One Book, One Campus co-chair, Dr. Welsh and Doreen Tobin, Ed.D., vice president of student affairs and One Book, One Campus co-chair. For more information about ESU's One Book, One Campus program or to order a copy of the book online, visit www.esu.edu/onebook. Copies of the book may also be purchased in the University Store, located on Normal Street in the center of campus.
---
---